Pokemon Masters EX update out now (version 2.17.0)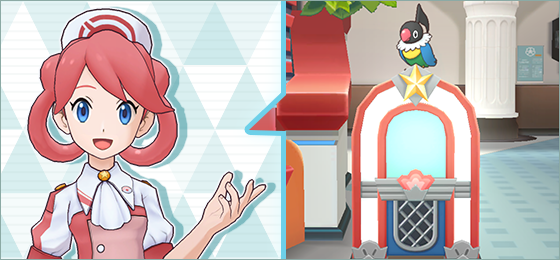 The newest update for Pokemon Masters EX has gone live on Android and iOS. This is update version 2.17.0, and it brings a Jukebox feature to the Pokemon Center.
The exact details of this feature and the official patch notes are below.

2.17.0 Patch Notes

Added a Jukebox to the Pokémon Center.
Note: Check out this link for more information.
Other Updates
Changed some of the voice-overs for Serena (Palentine's 2021) & Whimsicott and Dawn (Palentine's 2021) & Alcremie to voice-overs specific to those versions of the characters, as well as all related text.
Fixed an issue that caused Passive Skills which normally activate when a sync pair is attacked to activate with no attack received. This occurred when either an opponent or an ally used a Passive Skill that made the additional effects of a Pokémon move target all of their opponents when attacking.
Made minor text changes.
Other minor bug fixes and improvements have been implemented.
And here are some specific details on the Jukebox feature:
A Jukebox is now available in the Pokémon Center for you to enjoy the music of Pokémon Masters EX!

Try unlocking songs in the Jukebox and jam to your favorite Pokémon Masters EX tracks!

Jukebox
The Jukebox is a special feature that allows you to enjoy the music of Pokémon Masters EX.

You can tap the Jukebox located in the Pokémon Center to open the Jukebox menu.

Some songs are available from the start, but you'll need to fulfill specific requirements to unlock other songs.

Note: More songs will be added in future updates.

Playing Music
You can play music by opening the Music Player from the Jukebox menu and selecting the song you wish to play.

Songs that are not yet unlocked will be displayed in gray. Tapping a grayed-out song will show its unlock requirements and play a sample of the song.

Unlocking Songs
You can use a Song Key to unlock the song that matches its number.

You can obtain Song Keys in the following ways:

Raising the potential of specific sync pairs to 6★ EX.
Exchanging Music Coins via the Exchange Items menu in the Shop or via Unlock Songs in the Jukebox menu.
Note: You can find out how to obtain Song Keys by viewing the item details.
Note: Regarding Song Keys acquired by raising the potential of certain sync pairs to 6★ EX, if you have already raised the potential of the relevant sync pairs to 6★ EX before this update, you will receive Song Keys automatically upon updating. This is also applicable for songs added in later updates, which are unlocked by raising the potential of certain sync pairs to 6★ EX.

Music Coins
Daily missions will be updated to have Music Coins as mission rewards starting from the date/time below:

January 30, 2022 at 10:00 p.m.
Note: You may be able to obtain Music Coins from certain events in the future. Other Improvements
If a sync pair yields a Song Key when their potential is raised to 6★ EX, the Song Key button will be displayed on the sync pair's details screen, as well as on sync pair scout screens that feature only that sync pair. You can check the Song Key's details by tapping the button.

Changing Battle Background Music
Along with the addition of the Jukebox music player, background music for completed battles can now be changed.

Tap the icon in the upper right of the battle prep screen to access the background music selection screen. You can choose to play a specific song or a random song during the battle.

Note: During event reruns, even if you had completed a battle previously, you will have to complete it again to be able to change its background music.

Note: Background music in the Battle Villa, Legendary Arena, and Champion Stadium can be changed if you have previously completed the applicable battle or hall.

Important
To use the Jukebox, you must have completed Main Story Chapter 1: The More the Merrier (Normal) in single-player.
If you acquire multiple Song Keys with the same number, each extra will be converted into a 3★ Power-Up.
Leave a Reply