Pokemon Scarlet and Pokemon Violet pre-order bonus guide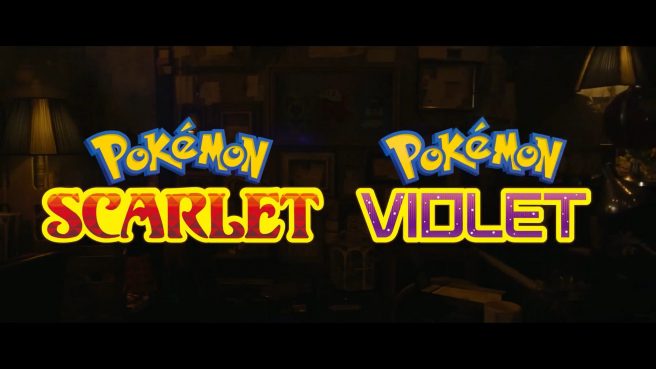 Pokemon Scarlet and Pokemon Violet were announced during Pokemon Day, and pre-order bonus information for the two games is starting to become available. In our latest guide, we'll be rounding up all of the reservation news from major retailers as well as any bonuses that are announced in the months to come.
Pokemon Scarlet and Pokemon Scarlet, developed by Game Freak, ring in the franchise's ninth generation. The Pokemon Company has indicated that this will be an open world experience "where various towns with no borders blend seamlessly into the wilderness." The starters are the grass cat Sprigatito, fire croc Fuecoco, and duckling Quaxly. There's much to be learned still, but we're fairly far off from launch.
Amazon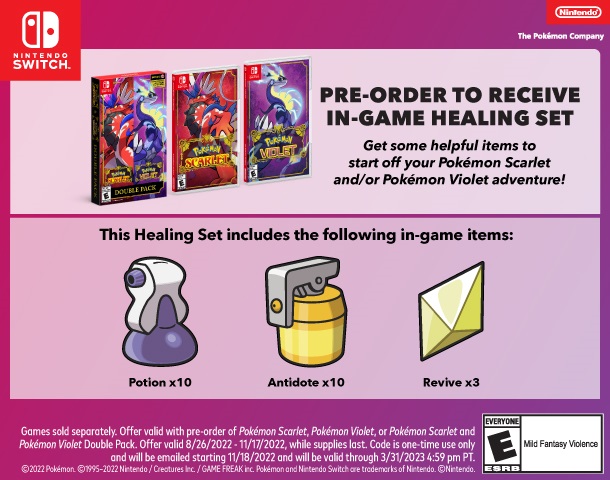 Amazon is one of the first retailers out of the gate here. You can pre-order Pokemon Scarlet from the retailer here and Pokemon Violet here. As a bonus, buyers will receive a download code for an exclusive in-game Healing Set which includes ten Potions, ten Antidotes, and three Revives.
Best Buy
Best Buy now has pre-orders available for the Scarlet version here and Violet version here.
GameStop
Pokemon Scarlet is up for pre-order on GameStop here while Pokemon Violet is available here.
Walmart
Both titles are available on Walmart here.
Target
Pokemon Scarlet is on Target here and Pokemon Violet is located here.
Amazon Canada
Amazon Canada has pre-orders available for Pokemon Scarlet and Pokemon Violet here.
Amazon UK
For those in the UK, you can pre-order Pokemon Scarlet on Amazon here and Pokemon Violet here.
My Nintendo Store UK
You can pre-order Pokemon Scarlet and Pokemon Violet on the My Nintendo Store UK here.
Pokemon Center
Pokemon Center has revealed the first pre-order bonus for Pokemon Scarlet and Pokemon Violet. Those that reserve any version will receive a code for the in-game backpack accessory. This is strictly for customization and doesn't directly affect gameplay. More information will be provided at a later date. Pre-orders are up here.
Double Pack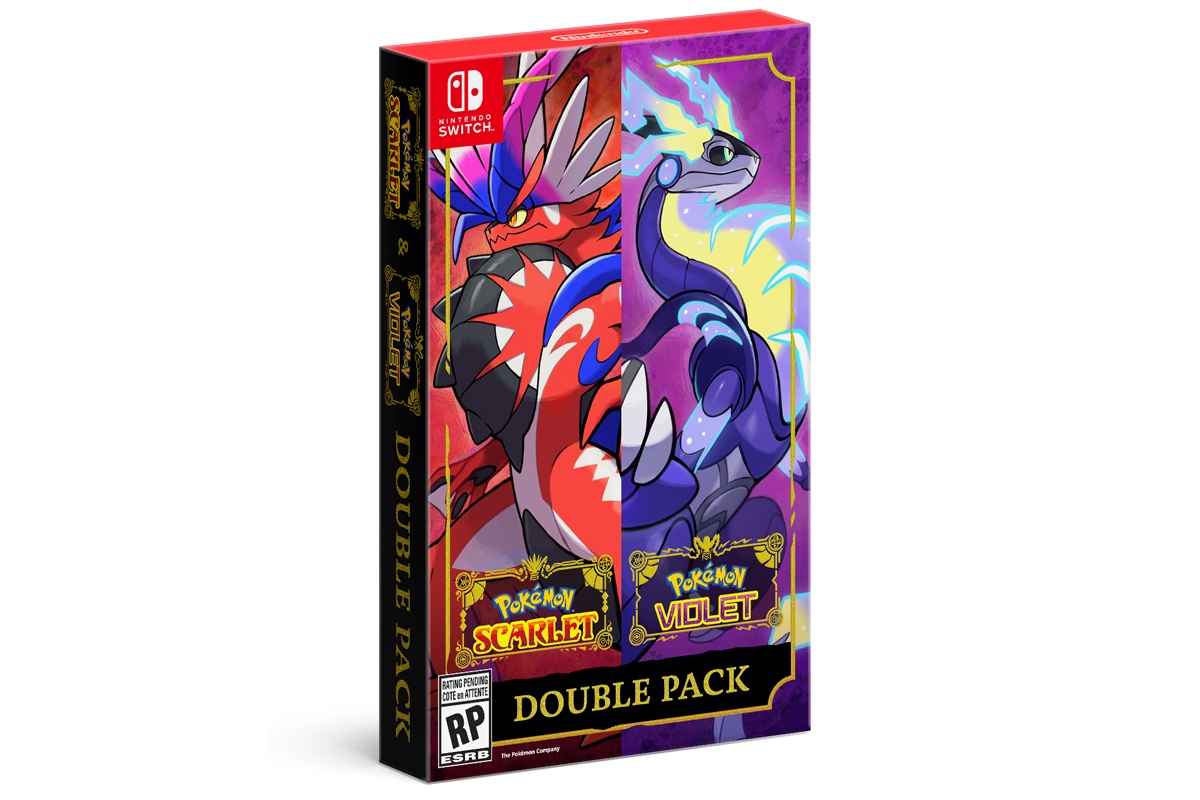 A Double Pack has been revealed for Pokemon Scarlet and Pokemon Violet with both games packaged together. In Europe, a steelbook will be included whereas that does not appear to be the case in North America.
Amazon France is currently taking pre-orders for the European version with the steelbook here, and copies ship to the United States.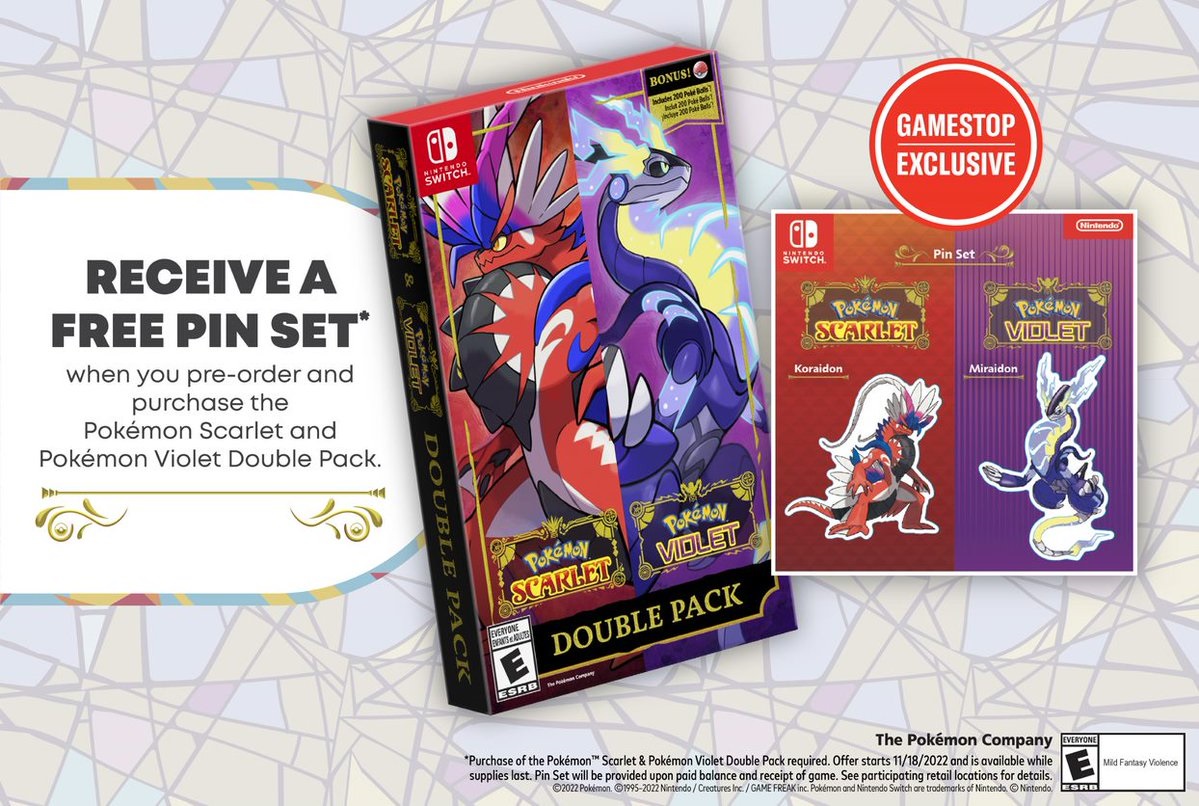 For those that are fine getting the double pack without the steelbook, you can pre-order on Amazon here, Best Buy here, GameStop here, Walmart here, or Target here. GameStop pre-orders come with a pin set, pictured above.
Purchase bonuses
Two purchase bonuses have been announced: one for a special Pikachu and another for the Adventure Set.
Special Pikachu
Purchase Pokemon Scarlet or Pokemon Violet by February 23, 2023 to receive the special Pikachu with the Flying Terra Type and knows the move Fly, which it normally cannot learn. It can be redeemed by selecting Get via Internet from the Mystery Gift feature.

Adventure Set
The Adventure Set can be obtained if players download the digital version of Pokemon Scarlet or Pokemon Violet from the Switch eShop by February 28, 2023 which comes in the form of a serial code. It includes Potion ×10, Full Heal ×5, Revive ×3, Ether ×3, Rare Candy ×1, and Nugget ×1.
Switch OLED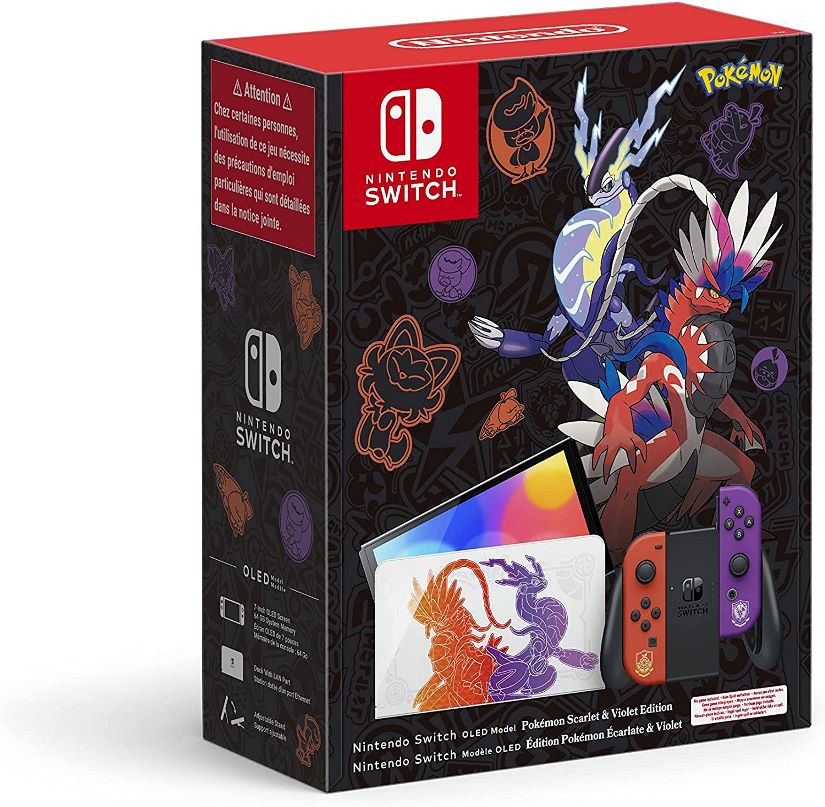 Nintendo has revealed a limited edition Switch OLED for Pokemon Scarlet and Pokemon Violet, which will be out on November 4. It features special designs on the dock and Joy-Con. Reservations are not expected for the states, though Amazon UK is taking reservations here, and orders ship to the U.S.
Differences between Pokemon Scarlet and Pokemon Violet
If past Pokemon games are anything to go by, a small amount of creatures will be exclusive in each version of these games. Additionally, it's been confirmed that players will have a different outfit depending on which game they are playing.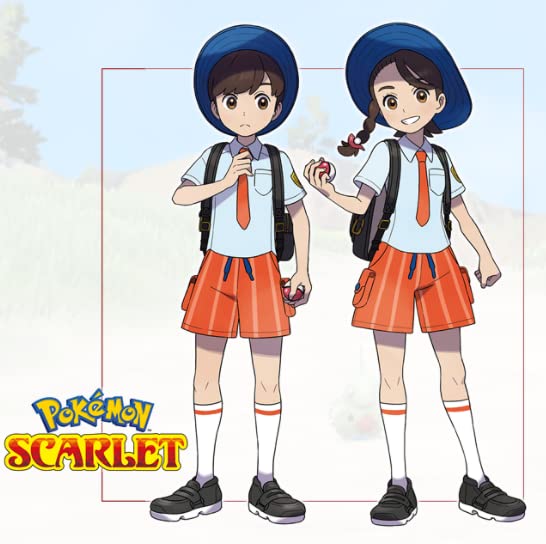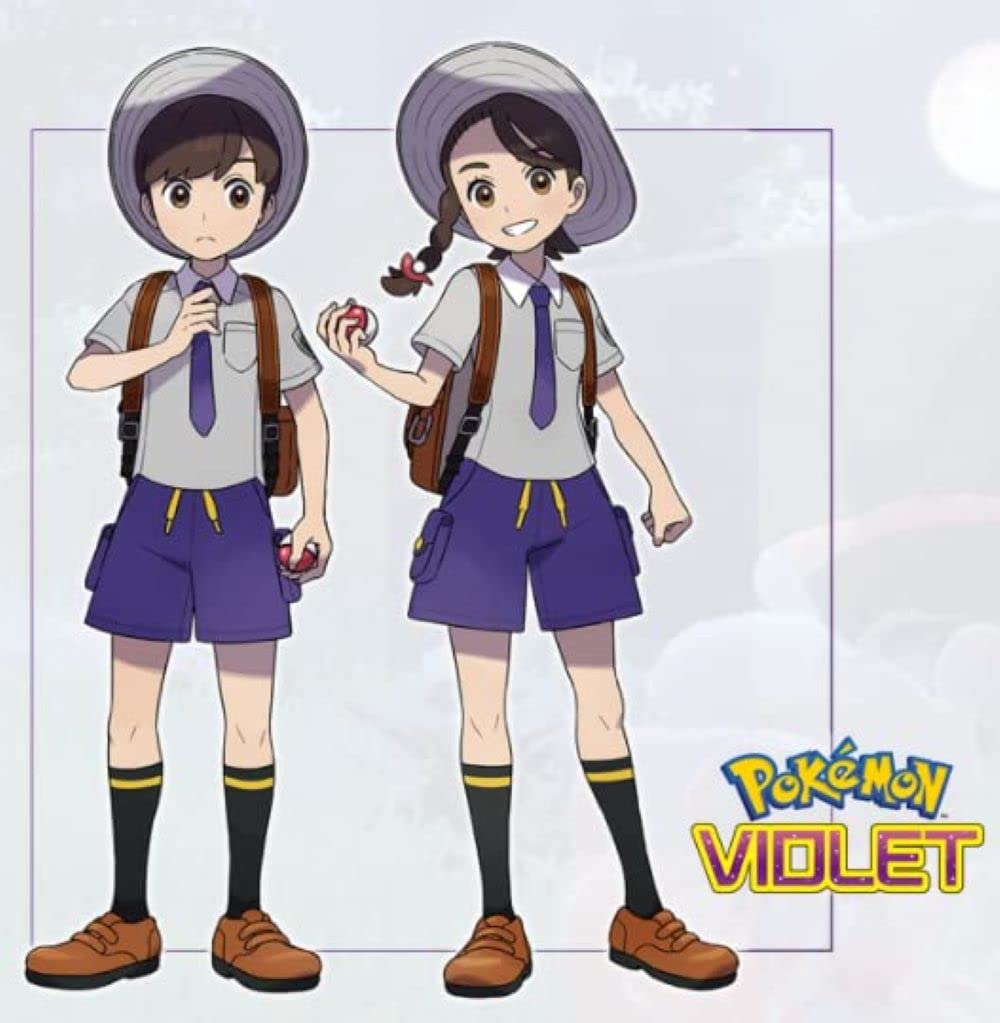 It has also since been confirmed that for the first time, one of two different professors will appear depending on which version players choose. With Pokemon Scarlet, Professor Sada will be showing up. Pokemon Violet features Professor Turo.
Release date
Pokemon Scarlet and Pokemon Violet are both planned for release on November 18, 2022. Expect our pre-order guide to be continually updated leading up to launch.
---
Nintendo Everything is a participant in the Amazon, Best Buy, and GameStop affiliate programs. The website may receive a partial commission through orders placed with these retailers.
Leave a Reply