Pokémon Shuffle Update: Mega Swampert, Bellossom, and Thundurus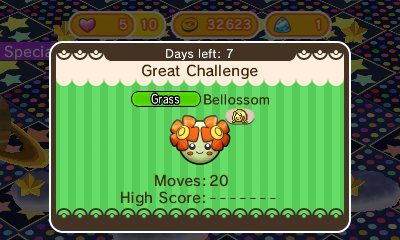 Pokémon Shuffle updates are back, this time bringing a new stage for Bellossom, the return of the Thundurus, and a returning Mega-Swampert stage. All of the stages are available on both the 3DS and mobile versions, and each runs until May 17th.
While the Bellossom and Thundurus stages are pretty standard, the Mega Swampert stage is (as usual for Mega stages) a competition stage, with the best players by region getting better prizes. The coveted Swapertite will go to the top 60,000 players in Japan, 22,000 in North America, and 15,000 in Japan, as well as the top 80,000 Mobile players worldwide. Note that, if you got a Swampertite last time the competition rolled around, qualifying players will get a Mega Speedup instead. A Raise Max Level will be given as a bonus prize to the top 10,000 players in Japan, 3,500 in North America, 2,500 players in Europe, and 15,000 worldwide on Mobile. The top 80,000 Japanese, 30,000 North American, 20,000 European, and 120,000 Mobile players who did not qualify for the Swampertite will get an Attack Power instead, and everyone who played but didn't qualify for any of those prizes will get a Disruption Delay.
Leave a Reply