Pokemon Sword/Shield – all returning Pokemon for The Isle of Armor revealed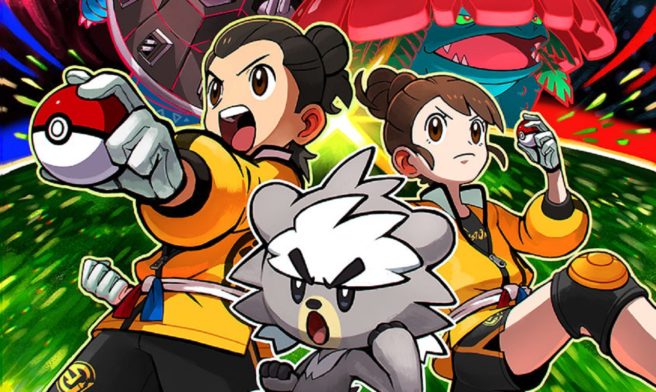 As part of The Isle of Armor DLC for Pokemon Sword and Pokemon Shield, a bunch of returning creatures have been added to the games. Dataminers have already uncovered the full lineup of Pokemon that have been brought back from prior titles.
SciresM has shared the list, which we have below. For those keeping track, we have a separate list of Pokemon that are still unavailable in Pokemon Sword/Shield as well.
Now Available
[027] – Sandshrew
[028] – Sandslash
[039] – Jigglypuff
[040] – Wigglytuff
[054] – Psyduck
[055] – Golduck
[060] – Poliwag
[061] – Poliwhirl
[062] – Poliwrath
[063] – Abra
[064] – Kadabra
[065] – Alakazam
[072] – Tentacool
[073] – Tentacruel
[079] – Slowpoke
[080] – Slowbro
[081] – Magnemite
[082] – Magneton
[102] – Exeggcute
[103] – Exeggutor
[104] – Cubone
[105] – Marowak
[108] – Lickitung
[113] – Chansey
[114] – Tangela
[115] – Kangaskhan
[116] – Horsea
[117] – Seadra
[120] – Staryu
[121] – Starmie
[123] – Scyther
[127] – Pinsir
[128] – Tauros
[137] – Porygon
[174] – Igglybuff
[183] – Marill
[184] – Azumarill
[186] – Politoed
[199] – Slowking
[206] – Dunsparce
[212] – Scizor
[214] – Heracross
[227] – Skarmory
[230] – Kingdra
[233] – Porygon2
[241] – Miltank
[242] – Blissey
[293] – Whismur
[294] – Loudred
[295] – Exploud
[298] – Azurill
[318] – Carvanha
[319] – Sharpedo
[403] – Shinx
[404] – Luxio
[405] – Luxray
[427] – Buneary
[428] – Lopunny
[440] – Happiny
[462] – Magnezone
[463] – Lickilicky
[465] – Tangrowth
[474] – Porygon-Z
[506] – Lillipup
[507] – Herdier
[508] – Stoutland
[543] – Venipede
[544] – Whirlipede
[545] – Scolipede
[548] – Petilil
[549] – Lilligant
[551] – Sandile
[552] – Krokorok
[553] – Krookodile
[570] – Zorua
[571] – Zoroark
[587] – Emolga
[590] – Foongus
[591] – Amoonguss
[619] – Mienfoo
[620] – Mienshao
[621] – Druddigon
[626] – Bouffalant
[636] – Larvesta
[637] – Volcarona
[661] – Fletchling
[662] – Fletchinder
[663] – Talonflame
[690] – Skrelp
[691] – Dragalge
[692] – Clauncher
[693] – Clawitzer
[702] – Dedenne
[707] – Klefki
[744] – Rockruff
[745] – Lycanroc
[753] – Fomantis
[754] – Lurantis
[764] – Comfey
[769] – Sandygast
[770] – Palossand
[801] – Magearna
[891] – Kubfu
[892] – Urshifu
[893] – Zarude
Still Unavailable
[013] – Weedle
[014] – Kakuna
[015] – Beedrill
[016] – Pidgey
[017] – Pidgeotto
[018] – Pidgeot
[019] – Rattata
[020] – Raticate
[021] – Spearow
[022] – Fearow
[023] – Ekans
[024] – Arbok
[029] – Nidoran♀
[030] – Nidorina
[031] – Nidoqueen
[032] – Nidoran♂
[033] – Nidorino
[034] – Nidoking
[041] – Zubat
[042] – Golbat
[046] – Paras
[047] – Parasect
[048] – Venonat
[049] – Venomoth
[056] – Mankey
[057] – Primeape
[069] – Bellsprout
[070] – Weepinbell
[071] – Victreebel
[074] – Geodude
[075] – Graveler
[076] – Golem
[084] – Doduo
[085] – Dodrio
[086] – Seel
[087] – Dewgong
[088] – Grimer
[089] – Muk
[096] – Drowzee
[097] – Hypno
[100] – Voltorb
[101] – Electrode
[124] – Jynx
[125] – Electabuzz
[126] – Magmar
[138] – Omanyte
[139] – Omastar
[140] – Kabuto
[141] – Kabutops
[142] – Aerodactyl
[144] – Articuno
[145] – Zapdos
[146] – Moltres
[147] – Dratini
[148] – Dragonair
[149] – Dragonite
[152] – Chikorita
[153] – Bayleef
[154] – Meganium
[155] – Cyndaquil
[156] – Quilava
[157] – Typhlosion
[158] – Totodile
[159] – Croconaw
[160] – Feraligatr
[161] – Sentret
[162] – Furret
[165] – Ledyba
[166] – Ledian
[167] – Spinarak
[168] – Ariados
[169] – Crobat
[179] – Mareep
[180] – Flaaffy
[181] – Ampharos
[187] – Hoppip
[188] – Skiploom
[189] – Jumpluff
[190] – Aipom
[191] – Sunkern
[192] – Sunflora
[193] – Yanma
[198] – Murkrow
[200] – Misdreavus
[201] – Unown
[203] – Girafarig
[204] – Pineco
[205] – Forretress
[207] – Gligar
[209] – Snubbull
[210] – Granbull
[216] – Teddiursa
[217] – Ursaring
[218] – Slugma
[219] – Magcargo
[228] – Houndour
[229] – Houndoom
[231] – Phanpy
[232] – Donphan
[234] – Stantler
[235] – Smeargle
[238] – Smoochum
[239] – Elekid
[240] – Magby
[243] – Raikou
[244] – Entei
[245] – Suicune
[249] – Lugia
[250] – Ho-Oh
[252] – Treecko
[253] – Grovyle
[254] – Sceptile
[255] – Torchic
[256] – Combusken
[257] – Blaziken
[258] – Mudkip
[259] – Marshtomp
[260] – Swampert
[261] – Poochyena
[262] – Mightyena
[265] – Wurmple
[266] – Silcoon
[267] – Beautifly
[268] – Cascoon
[269] – Dustox
[276] – Taillow
[277] – Swellow
[283] – Surskit
[284] – Masquerain
[285] – Shroomish
[286] – Breloom
[287] – Slakoth
[288] – Vigoroth
[289] – Slaking
[296] – Makuhita
[297] – Hariyama
[299] – Nosepass
[300] – Skitty
[301] – Delcatty
[304] – Aron
[305] – Lairon
[306] – Aggron
[307] – Meditite
[308] – Medicham
[311] – Plusle
[312] – Minun
[313] – Volbeat
[314] – Illumise
[316] – Gulpin
[317] – Swalot
[322] – Numel
[323] – Camerupt
[325] – Spoink
[326] – Grumpig
[327] – Spinda
[331] – Cacnea
[332] – Cacturne
[333] – Swablu
[334] – Altaria
[335] – Zangoose
[336] – Seviper
[345] – Lileep
[346] – Cradily
[347] – Anorith
[348] – Armaldo
[351] – Castform
[352] – Kecleon
[353] – Shuppet
[354] – Banette
[357] – Tropius
[358] – Chimecho
[359] – Absol
[363] – Spheal
[364] – Sealeo
[365] – Walrein
[366] – Clamperl
[367] – Huntail
[368] – Gorebyss
[369] – Relicanth
[370] – Luvdisc
[371] – Bagon
[372] – Shelgon
[373] – Salamence
[374] – Beldum
[375] – Metang
[376] – Metagross
[377] – Regirock
[378] – Regice
[379] – Registeel
[380] – Latias
[381] – Latios
[382] – Kyogre
[383] – Groudon
[384] – Rayquaza
[386] – Deoxys
[387] – Turtwig
[388] – Grotle
[389] – Torterra
[390] – Chimchar
[391] – Monferno
[392] – Infernape
[393] – Piplup
[394] – Prinplup
[395] – Empoleon
[396] – Starly
[397] – Staravia
[398] – Staraptor
[399] – Bidoof
[400] – Bibarel
[401] – Kricketot
[402] – Kricketune
[408] – Cranidos
[409] – Rampardos
[410] – Shieldon
[411] – Bastiodon
[412] – Burmy
[413] – Wormadam
[414] – Mothim
[417] – Pachirisu
[418] – Buizel
[419] – Floatzel
[424] – Ambipom
[429] – Mismagius
[430] – Honchkrow
[431] – Glameow
[432] – Purugly
[433] – Chingling
[441] – Chatot
[442] – Spiritomb
[443] – Gible
[444] – Gabite
[445] – Garchomp
[455] – Carnivine
[456] – Finneon
[457] – Lumineon
[466] – Electivire
[467] – Magmortar
[469] – Yanmega
[472] – Gliscor
[476] – Probopass
[480] – Uxie
[481] – Mesprit
[482] – Azelf
[483] – Dialga
[484] – Palkia
[485] – Heatran
[486] – Regigigas
[487] – Giratina
[488] – Cresselia
[489] – Phione
[490] – Manaphy
[491] – Darkrai
[492] – Shaymin
[493] – Arceus
[494] – Victini
[495] – Snivy
[496] – Servine
[497] – Serperior
[498] – Tepig
[499] – Pignite
[500] – Emboar
[501] – Oshawott
[502] – Dewott
[503] – Samurott
[504] – Patrat
[505] – Watchog
[511] – Pansage
[512] – Simisage
[513] – Pansear
[514] – Simisear
[515] – Panpour
[516] – Simipour
[522] – Blitzle
[523] – Zebstrika
[531] – Audino
[540] – Sewaddle
[541] – Swadloon
[542] – Leavanny
[564] – Tirtouga
[565] – Carracosta
[566] – Archen
[567] – Archeops
[580] – Ducklett
[581] – Swanna
[585] – Deerling
[586] – Sawsbuck
[594] – Alomomola
[602] – Tynamo
[603] – Eelektrik
[604] – Eelektross
[615] – Cryogonal
[641] – Tornadus
[642] – Thundurus
[645] – Landorus
[648] – Meloetta
[649] – Genesect
[650] – Chespin
[651] – Quilladin
[652] – Chesnaught
[653] – Fennekin
[654] – Braixen
[655] – Delphox
[656] – Froakie
[657] – Frogadier
[658] – Greninja
[664] – Scatterbug
[665] – Spewpa
[666] – Vivillon
[667] – Litleo
[668] – Pyroar
[669] – Flabébé
[670] – Floette
[671] – Florges
[672] – Skiddo
[673] – Gogoat
[676] – Furfrou
[696] – Tyrunt
[697] – Tyrantrum
[698] – Amaura
[699] – Aurorus
[703] – Carbink
[716] – Xerneas
[717] – Yveltal
[718] – Zygarde
[719] – Diancie
[720] – Hoopa
[721] – Volcanion
[731] – Pikipek
[732] – Trumbeak
[733] – Toucannon
[734] – Yungoos
[735] – Gumshoos
[739] – Crabrawler
[740] – Crabominable
[741] – Oricorio
[774] – Minior
[775] – Komala
[779] – Bruxish
[785] – Tapu Koko
[786] – Tapu Lele
[787] – Tapu Bulu
[788] – Tapu Fini
[793] – Nihilego
[794] – Buzzwole
[795] – Pheromosa
[796] – Xurkitree
[797] – Celesteela
[798] – Kartana
[799] – Guzzlord
[803] – Poipole
[804] – Naganadel
[805] – Stakataka
[806] – Blacephalon
Leave a Reply