Pokemon Unite downloads surpass nine million, Aeos Tickets to be distributed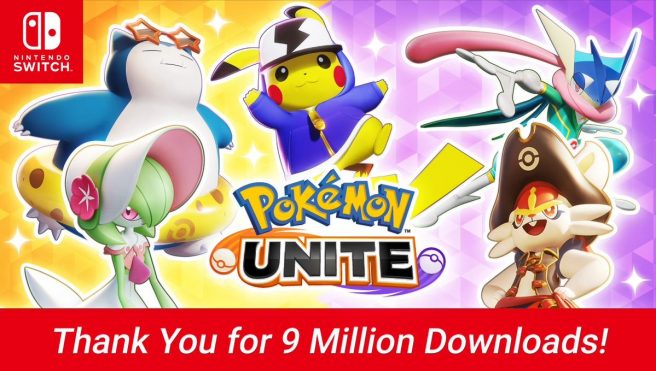 Pokemon Unite has surpassed nine million downloads, The Pokemon Company and TiMi Studio Group have announced. That number accounts for all installs through the Switch eShop since launch.
To celebrate, all players will be given 2,000 Aeos Tickets. This will be made available starting on September 29.
There's more to come in the near future. One of Pokemon Unite's next big steps will happen when the mobile version debuts, so it should continue to wrack up a significant amount of downloads. Players will be able to experience the game on iOS and Android starting on September 22. Additionally, cross-play with Switch will be supported at launch.
And speaking of mobile, Pokemon Unite has been hosting a pre-registration campaign. Players unlocked 1,000 Aeos Tickets, a Pikachu Unite license, and a Holowear-Festival Style: Pikachu after reaching five million pre-registrations. Once the number reaches 7.5 million, an additional 1000 Aeos Tickets will be up for grabs.
Pokemon Unite should be continuing in the future with regular updates and more creatures to play as. Despite how many Pokemon there are in the franchise, the MOBA only has a fraction on its roster. Blastoise was added to Pokemon Unite most recently. Other new Pokemon include Mamoswine, Sylveon, Blissey, and Gardevoir.
We'll let you know if any additional Pokemon Unite milestones are announced in terms of downloads.
Leave a Reply