Pokemon Unite update out now (version 1.10.1.1), patch notes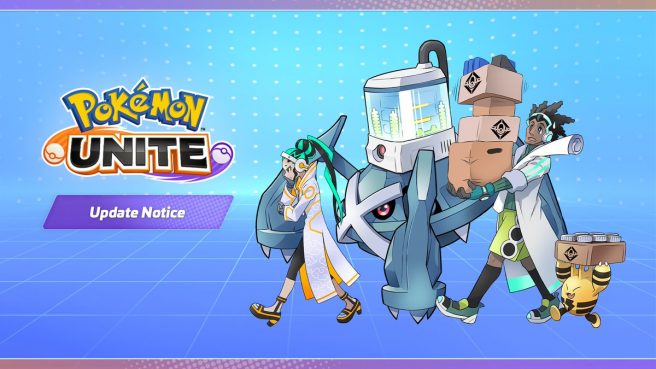 The latest update for Pokemon Unite has been made available with the title moving up to version 1.10.1.1.
Players can now use a Prize Machine, save and play replays, and more. Several more Pokemon balance adjustments have been implemented as well.
The full patch notes for the Pokemon Unite version 1.10.1.1 update are as follows:
Update Details

Prize Machine Now Available

You can obtain prizes by throwing Poké Balls at them until their prize gauge reaches MAX! You can obtain new items as well as some items you may have missed out on in the past.

(You can use the Prize Machine every day at no cost. Prizes change daily.)

Results Screen: Battle Reports Improved

Battle reports have been moved to the results screen, and goal zone destruction information has been added.

Also, you can now view battle reports from within battle records.

Menu Screen: Edit Menu Function Added

An edit function has been added to the menu screen. You can pin a maximum of two buttons to the top of the menu.

Trainer Info Screen: Replay Function Added

A replay function has been added. You can now save and play replays.

You can access even more features by becoming a UNITE Club member.

Spectating: Screen Improved

The spectator mode screen has been updated.

Settings: Surrender Options Added

An option to automatically oppose a surrender vote has been added (plus other surrender-related settings).

Matchmaking: Matchmaking Screen Improved

The design of the matchmaking screen has been updated.

The Eevee Festival isn't over yet! (2023-06-08 to 2023-06-22)

Leafeon joins the fun!

Bring your friends and battle it out together with different Eevee Evolutions!

Even more cute Holowear to come!

UNITE Club Membership Content Updated:

A function that saves Aeos gems for a short period of time has been added. Up to 200 unclaimed Aeos gems can be saved at a time.
Up to 20 replays can now be saved.
Members will receive two rank protection cards every month. Rank protection cards are only valid for the current season.

Battle Pass Updates
Ranked Match Updates
Shop Updates
Event Updates
Bug Fixes
Text Fixes

If the game has not been updated on your device, please restart the game to apply this update.

While the game is updating, you may not be able to connect to the server. If this occurs, please try again later.

Adjustment Details

Lapras

Whirlpool

Fixed a bug that caused the move's effects to persist even after Lapras was knocked out.

Unite Move: Lapras Express

Fixed a bug that caused an ally Pokémon's movement speed to stay increased if that ally was about to return to a goal before being carried by Lapras.

Cramorant

Boosted basic attacks

Fixed a bug that caused one single Arrokuda to fly back and forth between multiple opposing Pokémon and deal too much damage.

Glaceon

Icicle Spear

Fixed a bug that caused wild Pokémon hit by an ice crystal to take damage not only from the hit but also when the crystal shattered.

Clefable

Follow Me

Fixed a bug that sometimes caused provoked Pokémon to deal damage to allies with their moves.

Zacian

Ability: Intrepid Sword

Fixed a bug that sometimes caused consumed Aeos energy to return if Zacian used its Unite Move, Sovereign Sword, immediately after using a boosted move.

Comfey

Ability: Triage

Fixed a bug that caused Comfey to release from Zoroark if Zoroark used its Ability, Illusion.
All players on Switch and mobile can download the Pokemon Unite version 1.10.1.1 update now.
Leave a Reply