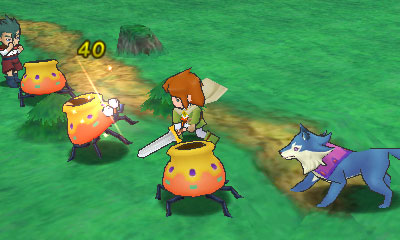 Along with today's new screenshots, Marvelous passed along a new batch of details about PoPoLoCrois Farm Story. Today's information pertains to the game's battle system. Read up on the full roundup of information below.
? Battle System

Battles in PoPoLoCrois Farm Story are command-based. When your gauge accumulates, you'll be able to take action, which can be performed within the range of squares indicated on the grid. You can attack monsters, heal allies, etc. Attacking monsters from behind will deal more damage. Additionally, you can switch between manual and automatic at any time during battle.

Special Skills

Each character has his or her own set of "Special Skills" that you can make use of during battle. Whether they're to attack an enemy, heal an ally, or to provide assistance, you'll learn new Special Skills as you level up.

? Quests

During your adventure, you'll meet a number of people in need of assistance. By helping them out, you can gain a variety of items as a reward. Some of these quests will consist of monster battles. Let's take a look.

Quest: Big Trent Outbreak

In response to the request of a girl from Rampling Village, players must defeat the lot of Trent that appeared in the forest.

Quest: Shells and I

In response to the request of an old man collecting shells in the forest, players must take down the Lizardman who stole all of his shells.

Quest: Oil Pot

The oil container-like Aburatsubo monsters are spilling oil in the Urban Mountains, and the mountain road has become dangerously slippery. Defeat the Aburatsubo and make the road safe again.
Leave a Reply