Portal Knights receiving a bunch of new features on Switch soon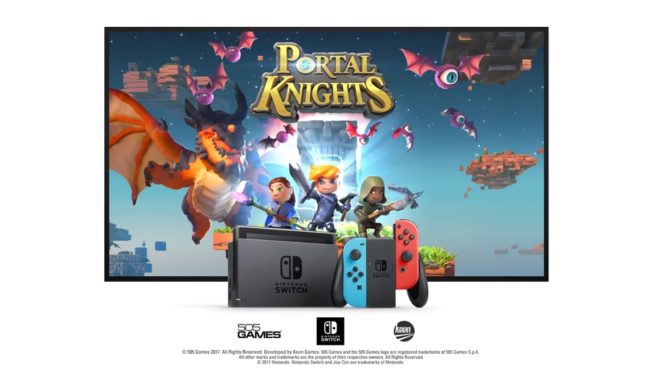 505 Games and Keen Games have outlined a number of new features coming soon to Portal Knight on Switch. Adventurers, Creators, and Villainous updates will be combined and released as a single patch.
Here's the rundown of new features:
– Creative Universes have been added
o The Universe Selection menu has been updated to allow the creation of "Creative" universes.
o Creative universes have a few different rules:
– Islands can either be created from a selection of presets or copied over from other universes.
– Everything is minable with one hit.
– Every game item, like blocks, props, etc. are available in the creative inventory and can be used freely.
– The character can fly, initiated by double-jumping.
– It's always daylight.
– There are no enemies.
– There are no quests or events.
– There are no loot drops.
– Placing and mining distances are longer than in adventure mode.
– Falling from an island induces no penalties.
– Remaining under water doesn't cause any damage.
– Three new bosses have been added – the Slime Queen, the Knight Hunter, and the All-Watcher! Quests in Port of Caul (1-07), Witchwater (2-12), and Sea of Stalks (3-06) will lead you to three epic battles. (Regeneration required.)
– New Towns
o Fort Finch (1-03) contains a town filled with new quests, NPCs, merchants and much more to discover!
o There is a new merchant at Fort Finch that sells mannequins. Mannequins can be placed anywhere and can be equipped with the player's armor and weapons to show them off.
o "Palm Bay" (Island 2-01) is now called "Landlubber's Leap" and hosts a new pirate hideout!
o Landlubber's Leap offers:
– New NPCs with additional dialogs and quests.
– New rewards for the player.
– New merchants with a mixture of old and new items.
– New pets.
– New hair and beard styles.
– New building blocks.
– The Ranger's Guild "Bodkin's Point" has been added to Hintertown (2-03) along with new quests, NPCs, merchants and much more to discover!
– In existing universes the "Regenerate Universe" feature may be used to make this new content available.
– New Items
o Several new home décor props have been added, including bathroom furniture, kitchen-themed items, cage doors, potted plants and awnings.
o Water pumps and drains are available. An unlimited water source item is in Creative Mode.
o Players can now craft three different types of gift boxes containing items from a pool of resources, such as valuable crafting ingredients, furniture sets, vanity items, etc.
– These gift boxes can be given out by players as prizes after a challenge or a tournament.
o Traps are now available for Rangers to use against enemies.
– Weapon and Armor Progression
o Several new weapons and weapon variants have been added.
o Weapon progression has been reworked. Players now have more choices of weapon type per player level and the weapon progression is better aligned with the player's progression through the islands and the crafting materials found there.
o A new type of Epic Chest spawns at the end of dungeon crawls which contain special weapons which are otherwise unobtainable.
o All armor has been reworked
– Many armor pieces are now dropped from normal dungeon chests instead of appearing as recipes at crafting stations.
– Armor has been reworked and rebalanced to better align to the new drop system.
– Two additional "end of game" armors for each class have been added.
– A new upgrading station at the Sanctuary allows refining mid-tier armor into high-end armor.
– Rings and Capes have been rebalanced and are now dropped as loot from epic chests and bosses.
– One new high-end Cape for each class has been added.
– NPC Features
o There is a new NPC type that will allow the player to change their appearance.
o Certain NPCs can be picked up and be relocated to almost any location.
o Info on NPCs can now be found on the map. Islands will list names and types of NPCs present as well as whether they are relocatable.
o NPCs now give the tutorial. This should help new players get off to a smooth start. In order for these new NPCs to appear, Squire's Knoll (1-1) needs to be regenerated.
o NPC encounters have been added at various locations throughout to help guide new players through the game. In older universes the "Regenerate Universe" feature will add the new encounters to previously visited islands.
– Other Features
o A "sit" emote has been added to the emote menu.
o Furniture can now be interacted with. The player can sit on chairs, thrones, benches, etc. and lie down on beds. When lying down on a bed, time will speed up.
o Pets can now be placed in special pet homes. These homes can be purchased from Funny Jongo and must be placed before pets can be added to them. Pets will roam freely about their homes.
o Enemies now take more damage when being attacked from behind.
o Crystals now have seedlings, like plants, and can be grown in their native biomes.
o Loading screens show awesome gameplay tips.
o All bombs, artifacts, and potions (except health and mana) are now crafted at the new Alchemy station.
o A "Smart Camera" option has been added and enabled by default. The Smart Camera will automatically track the player and position itself behind them.
o New side-by-side chest menu! When you open a chest or other container, you'll now see a handy side-by-side view of your backpack and the chest, along with shortcuts for mass item transfers and stacking.
o Consumable items and recipes can now be used directly from your backpack (via the More Actions menu).
o Completed events now grant XP and gold.
No word yet on when the update will be going live, but it's currently in the submission process. Once it gets by Nintendo's review, the patch will be available soon after that.
Leave a Reply