Prison Architect – Island Bound and "The Rock" update out now (version 1.0.5)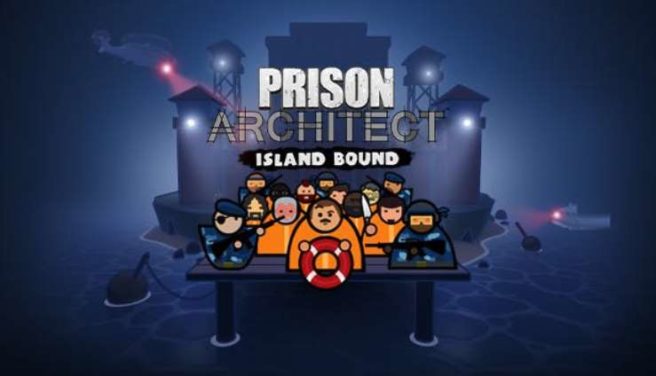 Prison Architect has been updated on Switch, bringing along the Island Bound DLC as well as a free update known as "The Rock". Patch notes are available breaking down the additions, changes, and more.
Here are the full update details:
Feature Overview

New Delivery and Transport systems

Docks: use 3 new boat vehicles to replace the standard road services.
Civilian Ferry, Inmate Ferry and Supply Boat.
Helipads: use 2 new helicopters to replace the standard road services.
Supply Helicopter and Prisoner Intake Helicopter.
Contraband is available for prisoners at both Docks & Helipads.

New Helicopter Emergency Services

Air Fire Fighters: the Air Firefighter Helicopter transports a squad of firefighters and is able to fight fires itself from the sky, Firefighters connect their hoses to the Helipad they land at instead of the road-based hydrants.
Elite Ops: the Elite Ops Helicopter transports a squad of the new "Elite Ops" units. They are a level higher than the usual Riot Guards. The helicopter is able to deploy these units wherever the player chooses.
Air Paramedics: the Air Paramedics Helicopter transports a squad of paramedics.

New Logistics options

Deliveries: manage the linking of Helipads, Docks, or the road to their designated locations (Delivery, Garbage, Export, Storage, or Reception rooms).
Transport: Allows users to toggle the specific services available to Docks, Helipads, or the Road (Deliveries, Intake, Civilians, and Exports), each service is then split further to allow users to toggle either the entire services or parts of it.
Deliveries – Building Materials, Food, Mail, and Workshop Materials.
Intake – Minimum Security, Medium Security, Maximum Security, SuperMax, Death Row, and the Criminally Insane.
Civilians – Visitors, and Teachers.
Exports – Garbage, and Exports (logs and workshop items).

New "Crate Scanner" Machine & Monitor

The crate scanner allows for crates to be scanned (for contraband) before being brought within the prison's walls.
A monitor must be placed and manned by a guard for the scanner to operate.
The monitor must be wired to the scanner in the same way as CCTV monitors.
Multiple scanners can be wired to the same monitor object.

New Checkpoint Object

This object works similarly to the metal detector object, prisoners will move through the checkpoint and be searched by guards.
This object will also be manned by guards. Otherwise, prisoners will ignore it.
This object can be used to enforce inmate searches at certain key points within the prison.

2 new Prison Plots:

The Island Plot: An island plot surrounded with water, with no road at all, but an auto- generated boat dock.
The Connected Island: An island plot surrounded with water, but connected to the road still via an auto-generated bridge.

2 new pre-built prisons:

Alcatraz Island: the ruined remains of Alcatraz prison, ready to be rebuilt from scratch.
The Rock: a ready-to-play copy of the running Alcatraz prison.

Landscaping options

Shallow Water (Flooring item)
Placing certain objects on water (Stepping Stones, Buoy, Fountain)

New water tiles

Visual Water Blend.
Shallow Water.
Deep Water.
Standard Water.

Item Overview

Flooring

Water (Shallow)
Dock (Wooden)
Water
Water (Large)

Objects

Wind Sock
Deck Chair
Stepping Stones (Ice)
Fountain
Helipad
Checkpoint
Scanner Machine
Scanner Monitor
Stepping Stones (Lily Pad)
Boat Dock
Ferry Dock
Buoy
Life Ring
Light (Green)
Light (Red)
Metal Barrel
Mooring Bollard
Stepping Stones
Stepping Stones (Pallet)
Stone Water Spout
Wooden Barre

"The Rock" Free Update

Landscaping options

Placing Water over land tiles
Placing land tiles over water tiles
Placing utilities over water.
Visual Water Blend.
Cliff Edge

Dynamic Reputations: When prisoners perform certain actions/behavior or spend time in certain areas, they will gain a rising % chance to earn or lose a Reputation trait. With the available reputations being as follows:

Deadly
Fearless
Quick
Skilled Fighter
Stoical
Strong
Tough
Volatile
Expert Fighter
Extremely Deadly
Extremely Quick
Extremely Strong
Extremely Tough
Extremely Volatile
Legendary
Escape Artist
Workaholic
Addiction

Bug Fixes and Improvements

Fixed an issue that caused Snipers to go to occupied Guard towers.
Fixed an issue that caused Cooks to operate CCTV Monitors, Phone Taps and Door Controls.
Fixed an issue that could prevent teachers from arriving at the prison.
Setting custom security sectors will no longer block some programs.
Fixed an issue that prevented the use of "Free Fire" in Unlocked or Staff Only security sectors.
The Appeal Tooltip for Death Row has been improved.
Fixed a visual issue with new wall types in Utility view.
New walls are no longer transparent for Gunfire/Taser line of sight.
Fixed an issue with inmates stuttering their way to the Yard.
The "Force Riot" function is now working properly.
Custom security sectors do not block Escape Mode cell assignments anymore.
Fixed an issue that prevented armed guards from shooting on GABOS.
Fixed an issue that prevented external staff from walking through Visitor Doors.
Fixed some crashing issues.
Implemented some quality of life improvements for clients in a multiplayer game.
Leave a Reply