Project CARS – final car list, new screenshots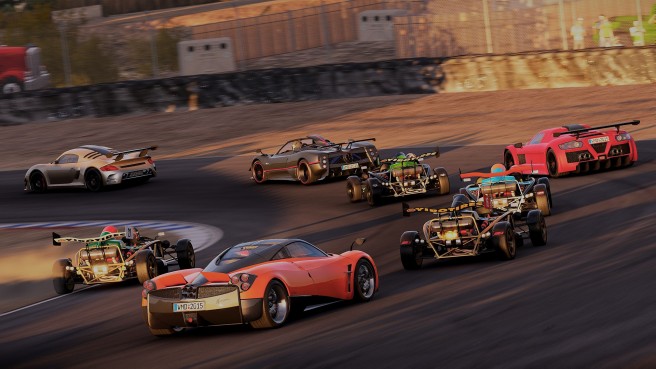 Bandai Namco and Slightly Mad Studios have shared a final car list for Project CARS.
Here's what's in the base game:
Alpine A450
Ariel Atom 300 Supercharged
Ariel Atom 500 V8
Aston Martin Rapide S Hydrogen Hybrid
Aston Martin Vantage GT3
Aston Martin Vantage GT4
Audi R18 TDI LMP1
Audi R8 LMS Ultra
Audi R8 V10 Plus
BAC Mono
BMW 1 M CoupÈ (E82)
BMW 320 Turbo Gr.5 (E21)
BMW M3 Gr.A (E30)
BMW M3 GT (E92)
BMW M3 GT4 (E92)
BMW Z4 GT3
Caper Monterey Stockcar
Caterham Seven Classic
Caterham Superlight R500
Caterham SP/300R
Ford Capri Zakspeed Gr.5
Ford Escort RS1600
Ford Focus RS
Ford Mustang Boss 302R1
Ford Mustang Cobra SCCA TransAm
Ford Sierra RS500 Cosworth Gr.A
Formula Gulf 1000
Ginetta G40 Junior
Ginetta G55 GT3
Ginetta G55 GT4
Gumpert Apollo S
Lotus 49 Cosworth
Lotus 72D Cosworth
Lotus 78 Cosworth
Lotus 98T Renault
Marek RP219D LMP2
Marek RP339h (PM 06a) LMP1
McLaren 12C
McLaren 12C GT3
McLaren P1
Mercedes-Benz 190E 2.5-16 Evo2 DTM
Mercedes-Benz 300SEL 6.8 AMG
Mercedes-Benz A45 AMG
Mercedes-Benz SLS AMG
Mercedes-Benz SLS AMG GT
Mitsubishi Lancer Evo X FQ400
Oreca 03 Nissan
Pagani Huayra
Pagani Zonda R
Palmer Jaguar JP-LM
Radical SR3 RS
Radical SR8 RX
Renault Clio Cup
Renault MÈgane R.S. 265
Ruf CTR3
Ruf RGT-8
Ruf RGT-8 GT3
RWD P20 LMP2
RWD P30 LMP1
SMS Formula A
SMS Formula B
SMS Formula C
SMS Formula Rookie
SMS Kart 125cc (Kart01)
SMS Superkart 250cc (Kart02)
Next, these vehicles will be available in the Limited Edition Car Pack:
Sauber C9 Mercedes
Mercedes-Benz C-Class Coupe DTM
McLaren F1
Ford Mk. IV
BMW M1 Procar (E26/1)
And the Modified Car Pack:
Ariel Atom Mugen
Ruf CTR3 SMS-R
Pagani Zonda Cinque Roadster
Lastly, one free car:
W Motors Lykan HyperSport – Free Car #1
View some new screenshots from Project CARS below. It launches on Wii U later this year.
Source: Bandai Namco PR
Leave a Reply