Quake II getting a physical release on Switch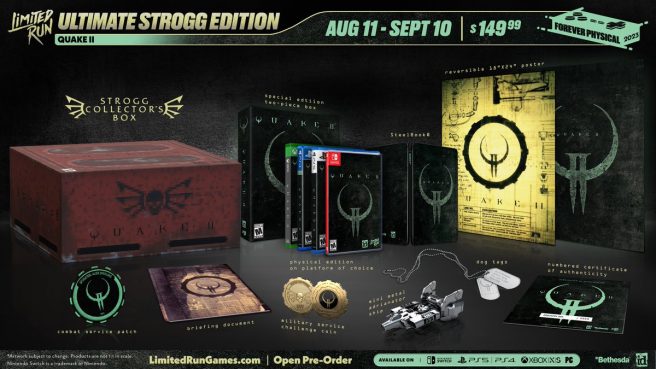 The just-released Switch version of Quake II is getting not only one, but three different physical versions on Switch. All three come from Limited Run Games.
First up is, of course, the standard physical copy. Also available will be a special edition, which features a steelbook, poster, briefing document, and a set of dog tags in a throwback two-piece box. Lastly is the Ultimate Strogg Edition featuring all that and more, with the entire special edition, a challenge coin, mini metal Adrianator ship, and a service patch all in a beefy Strogg Collector's Box.

Quake II just debuted on Switch today. We have more information below for those that need a recap.
Developed by id Software in 1997, Quake II is a critically acclaimed first-person shooter and sequel to Quake that deviates from the original by introducing an entirely new science fiction narrative and setting.

Mankind is at war with the Strogg, a hostile alien race planning an invasion of Earth. To prevent the invasion, humanity launched a preemptive strike on the Strogg homeworld…it failed, but you survived. Outnumbered and outgunned, fight your way through fortified military installations and shut down the enemy's war machine. Only then will the fate of humanity be known.
Limited Run Games will have pre-orders for the physical versions of Quake II for Switch starting tomorrow. Reservations will be up on the company's website here.
Leave a Reply