Reggie confident in Switch hitting 20 million sales goal, talks importance of DLC, no news about new Switch hardware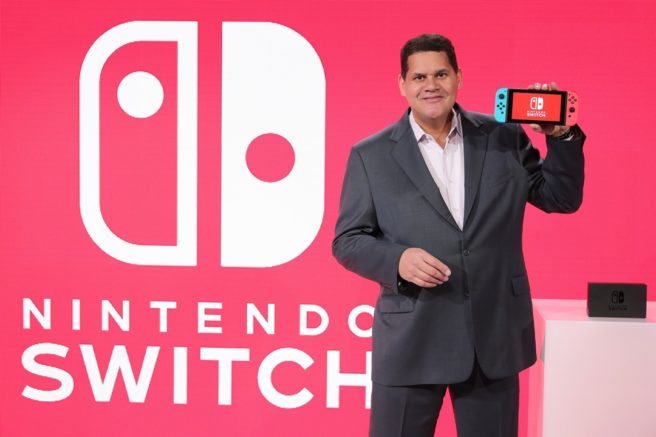 Earlier today, Forbes published its own interview with Nintendo of America boss Reggie Fils-Aime. Reggie was again asked about Nintendo's goal of selling 20 million Switch systems this fiscal year, DLC, and rumors of new Switch hardware.
Find these comments from Reggie below. If you'd like to read some additional statements, head on over to Forbes.
On Switch selling 20 million units this fiscal year…
We're feeling confident in our momentum and it's not just a stellar launch of Pokémon, it's not just what appears to be a stellar launch for Super Smash Bros. Ultimate. That Black Friday through Cyber Monday time frame was critically important to us, the remaining shopping days now through Christmas are critically important to us. More days right after Christmas as consumers receive gift cards or take unwanted gifts and monetize into things like Nintendo Switch are important to us. So, this is going to be an ongoing effort to make sure that we drive our business forward through the balance of this holiday season but also the first calendar quarter as well.
On the importance of DLC…
Our global president has said DLC is important to us, whether it's paid or free, in driving ongoing engagement with Nintendo Switch as a platform and with the particular games. And you've seen that with what we've done with Zelda: Breath of the Wild, with paid DLC you've seen that, what we've done with Splatoon 2 and Arms, with both free and paid DLC. So, it's something that we're looking at, but what's important is that the DLC provide new and additional experiences for the consumer. We think that from a consumer satisfaction, it's critically important.
On rumors of new Switch hardware…
Right now, as we go into our second holiday, my focus is making sure the current grey and neon Switch continue to have momentum in the market place. You saw systems, whether it's our own or competitive home console systems, utilize that tactic a bit later in the life cycle. So right now, the current execution of Nintendo Switch with the Joy-Con and all of the capabilities, that's our focus right now.
Leave a Reply