Reggie on Switch's initial potential, supply, Nintendo Switch Online to provide "robust online experience"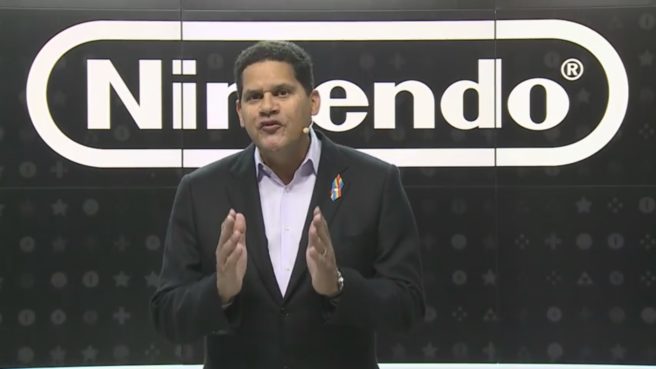 This month's issue of Game Informer features a new interview with Nintendo of America president Reggie Fils-Aime. Though Reggie didn't share any mindblowing comments, there were a few interesting remarks along the way.
Game Informer started out by asking about Switch's early potential and when he knew the system would be a game-changer. In response, Reggie explained:
"When I first saw Nintendo Switch, I was convinced it would provide experiences never seen before. I thought the ability to take console-quality games on the go and share them with others, plus all the other new features built into the console and the Joy-Con controllers, would really change how people experience their favorite games. It enables a player to always have time to play their favorite games, and this is a powerful concept.

Of course, even when we see the potential of a system internally, we never know how the public will react to it. We saw strong reactions with the public from our very first introductory video. From there, enthusiasm built to launch and all through the 2017 holiday season. We're truly appreciative of how fans have reacted, and we're only getting started."
Later in the interview, Reggie noted how having "strong Nintendo IP at launch" was "critically important." He added that along with Nintendo's own games, "there has been a nice stream of third-party games for Nintendo Switch in 2017, and that's continuing this year as well."
When asked if he had any stories or moments of interacting with fans that changed his perception of Switch, Reggie pointed to the launch at Nintendo NY and one occasion when he was on a plane playing Zelda: Breath of the Wild while also seeing someone else with the system. After the two talked "constantly during the flight", other passengers heard the conversations and were asking many questions. He thinks he may have sold some new systems that day.
On the topic of supply, Reggie reiterated that Nintendo managed to sell neary six million units in the Americas last year. Fortunately, the company was able to increase shipments, and Nintendo still has "amply supplies available."
Regarding third-parties, Reggie said that Nintendo is interested in having "the very best games from the best developers on our platform." He added that teams "are embracing the system's many unique features, such as the ability to play games on the go."
Finally, on what lies ahead, Reggie fired off many games that we know about like Mario Tennis Aces and of course Super Smash Bros., as well as Nintendo Labo. And in September, Nintendo is "looking forward to providing a robust online experience".
You can read the full interview with Reggie in Game Informer.
Leave a Reply