Reggie reveals the backstory of the Smash Bros. Mii Fighter reveal trailer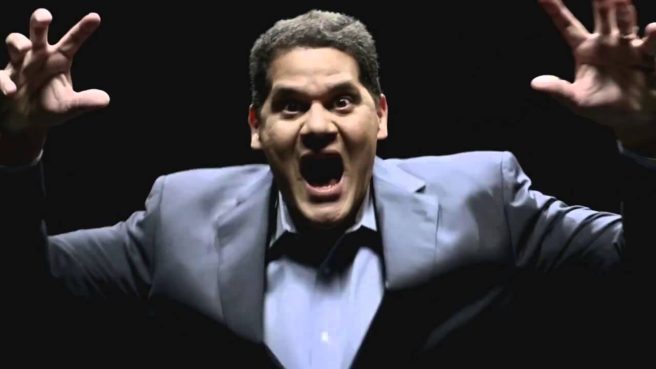 Former Nintendo of America president Reggie Fils-Aime has spoken about the memorable reveal trailer for the Mii Fighter in Super Smash Bros. Ultimate for Wii U / 3DS.
Nintendo has had many special moments in its online presentations over the years, but this one in particular stood out. In it, Reggie went into battle with late Nintendo global president Satoru Iwata, complete with punches and headbutts. The fun video was a way of introducing fans to the idea that they could use any Mii character they create as a fighter in Super Smash Bros. for Wii U / 3DS.
In a new episode of the Kit & Krysta show, Reggie revealed the inside story of the trailer. It turns out that stunt doubles were involved for some of the action – and this happened in Japan – but they had trouble finding someone that was as tall as Reggie so "they needed to shoot it at an angle to make the person look bigger." We also learn that Reggie and Iwata shot separately – Reggie was in North America while Iwata was in Kyoto.
Reggie said:
"Yes and no. So yes, the fighting is me, some of the activities that we sped up and did, yes, those were me. But we also did have stunt doubles. What's interesting about that – some of the stunt double activity that was done was actually shot in Japan, and they needed to shoot it at an angle to make the person look bigger. They couldn't find someone 6'3 to do some of the stunts, so literally I was told this after the fact. And if you go back and look at the video, you can see it's shot at an angle down low shooting out in part to drive that stature. All of the close-up stuff was myself or Mr. Iwata – the facial elements to it.

The other little inside story is that each of our scenes were shot independently. My shoot was done here in the Pacific Northwest, Mr. Iwata's was done I'm assuming there in Kyoto, and they it all came together. You can't tell as you look at it now."
You can watch the full video interview with Reggie below.
Leave a Reply