Resident Evil Revelations 1 and 2 for Switch details – frame rate, resolution, controls, more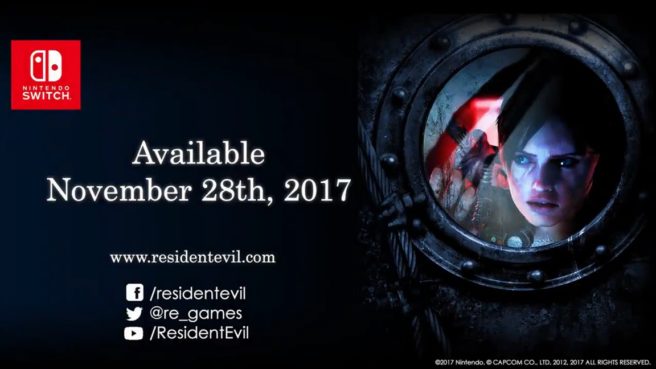 While searching for the latest information about the Resident Evil Revelations games for Switch, which are due out for the console this month, we found an interesting article from Japanese outlet Inside Games. The site went hands-on with both Resident Evil Revelations and its sequel at the Tokyo Game Show a couple of months ago. Along with its own impressions, Inside Games also spoke with Capcom representatives. What it all amounts to is some information about the frame rate, resolution, controls, and more that we hadn't known previously.
The Switch version of both Resident Evil Revelations games are based on the PlayStation 4 and Xbox One games that received HD 60 frames per second support.
This version has Joy-Con support with motion control and HD Rumble, and also Joy-Con share play which is only available in Revelations 2. Once again, all DLC is already included from the get-go, and it also supports multiple languages in both voice and text. Both games also have local co-op, so you can play with two separate Switch systems as well.
The first Resident Evil Revelations features a 1080p resolution when playing on a television, and 720p resolution in portable mode. It also runs at 60 frames per second.
By holding ZL on the Joy-Con, you can aim your gun with the right Joy-Con's motion control. You can even use the left Joy-Con as a magazine to simulate a reloading motion. Other motion controls include slashing horizontally to simulate a knife attack, and swinging the Joy-Con vertically for a quick reload. Motion controls are optional and can be set to on or off from the options settings. However, motion controls are not supported with the Pro Controller.
Classic controls are also available. For example, you can put up your gun with ZR and then press X to fire.
Switch's HD Rumble allows for more detailed and complex vibrations. There will be new kinds of rumble that weren't in the PlayStation 4 and Xbox One versions.
Resident Evil Revelations 2 also runs at 1080p when playing on a television. However, it seems like this one doesn't have 60 frames per second (at least the TGS build doesn't) because the game involves heavier processing. But the graphics should be rather close to the PS4 version.
As mentioned before, Revelations 2 has Joy-Con share play feature. Although the screen would be too small in tabletop mode, there shouldn't be any problem at all for co-op in TV mode. Due to the fewer buttons available when sharing Joy-Con, the developers have said that it will have a unique control scheme. Specifics have not been shared at this time.
Leave a Reply