Retro's Star Fox Armada pitch, Switch's lifecycle, Super Nintendo World and more | Nintendo Everything Refresh Ep. 044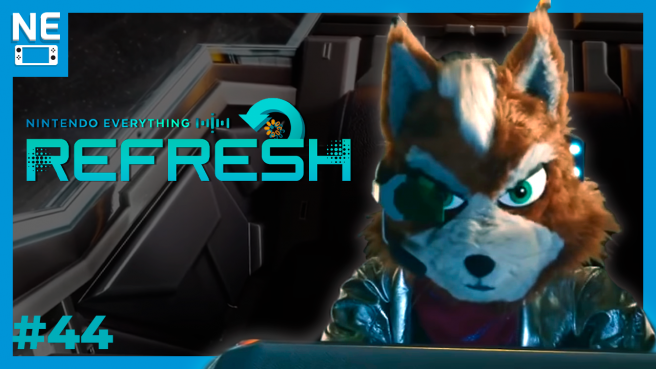 Did you know that we could have gotten a totally different Star Fox game on the Wii U? In this week's episode of Nintendo Everything Refresh, we'll share details about Star Fox Armada, a game pitched by Retro that could have been the direct sequel to Star Fox 64 that fans have been craving. (Visit DidYouKnowGaming for the full story!) We'll also talk more about Splatoon 3's upcoming expansion pass, Super Nintendo World, and much more!
Our podcast is available on most major streaming platforms, including Spotify, Apple Podcasts, Google Podcasts, Amazon Music and Audible, or you can check out the video version on YouTube.
Direct downloads are also available for free through our friends at ListenNotes. Have ideas or suggestions for the show, or want to submit a fan question or topic for a future episode? Let us know what you think – and thanks for listening!
➡ Inquiries/Fan Mail: [email protected]
Episode Segments:
(00:00) | Intro
(04:06) | Nintendo comments on Switch's lifecycle
(14:39) | "Merge Funds" Feature losing support in March 2024
(21:28) | Splatoon news
(33:17) | Retro pitched Star Fox Armada for Wii U
(41:53) | Animal Crossing new Horizons getting 700 page guide
(45:33) | Bleak Sword DX
(48:16) | The Mageseeker: A League of Legends Story
(52:24) |.Tiny Thor
(54:20) | Capes
(57:50) | Camper Van Make it Home
(01:00:35) | Refresh rate
(01:14:53) | What we've been playing
Hosts:
Nick Serpa: @ndserpa
Dennis Gagliardotto: @LyonHart_
Luiz Estrella: @Luizestrella_
Nicolas Shadday: @Dayshade1999
and special guest Tom Chaplin!
Leave a Reply