Rez creator, Bandai Namco devs, Famitsu editor-in-chief share thoughts on Nintendo Labo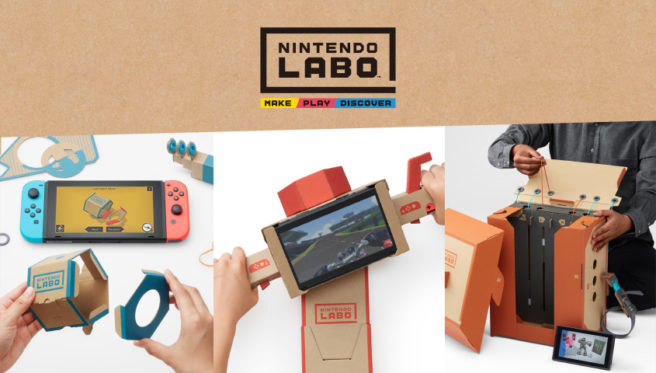 Over the past couple of weeks, Famitsu has started running regular features on Nintendo Labo. As part of this, the magazine spoke with four different members of the gaming industry for their thoughts on the new Switch initiative. Rez and Space Channel 5 creator Tetsuya Mizuguchi, Tekken producer Katsuhiro Harada, Bandai Namco's Jun Tamaoki (Summer Lesson), and Famitsu editor-in-chief Katsuhiko Hayashi weighed in on Nintendo Labo.
We've gone ahead and translated their various remarks. You can find the full comments from each of these people below.
Enhance Games' Tetsuya Mizuguchi – famous for Rez and Space Channel 5
I think Nintendo Labo has started something very interesting. The point I think is interesting is that it lets players themselves experience the fun in creating things and lets the body get involved with gameplay. These are the two points. This experiment should have a big impact in five or ten years into the future. I have a feeling that people who experienced this will someday become a part of a generation that produces new, futuristic gameplay worldwide.
Bandai Namco's Katsuhiro Harada – famous for Tekken series
Input devices for arcade games are made of cardboard or plastic boards, but I remember how in the past I was excited to try out a lot of things that were "neither this nor that" with my seniors in the workplace. I was impressed that people who made genius-like constructions appeared from there. I see, so you're going to let users experience that excitement. I think that's the interesting part. I've been thinking, if this gets developed further, would they someday release a construction kit for input devices that look like electronic blocks which were popular during my childhood?

When I was young, I was raised in a household that strictly forbade games, but I wanted to play Invader on the arcade and NES, so I made all of them with cardboard. I played with those inside my room while using my imagination, but I'm very jealous at modern children who live in a new era and have drawn a line from that lonely feeling.
Bandai Namco's Jun Tamaoki – famous for Summer Lesson
[I was] a boy who used to like Mindstorms and Elekit, and I'm very, very much looking forward to Nintendo Labo! As more information has been revealed, I end up imagining what kind of things I can create by myself. Things like a figure where you can feel its heartbeat with Joy-Con's HD Rumble installed on the pedestal, performing a duet with a character using a piano made of cardboard, placing an acrylic board on screen and showing a character hologram (too much imagination). First I'll prepare decoration items, and I'll wait for its release!
Famitsu's Katsuhiko Hayashi – Editor-in-Chief
My family has a child (9-year-old daughter) who plays games rather freely, provided that she has an interest in those games by herself. And while this pertains to my own work, I've been showing her things and asking her, "Are you interested in this?" Of course I also showed her the debut trailer for Nintendo Labo, but I was surprised by her reaction at that time. My daughter is shy and doesn't show her emotions too much, but she answered clearly like "It's so interesting!" and "I want to play with this!" When I saw this reaction, as a parent I said "Then let's buy it, and play it together."

… I should be rather thankful for the opportunity of "a time between parent and child." With that being said, to the fathers in this world, this is the chance to show something good. Have fun and do your best!
---
Massive thanks to BlackKite for helping with this translation!
---
Thanks for making it to the end of this post! If you use any of this translation, please be sure to properly source Nintendo Everything. Do not copy its full contents.
Leave a Reply