RiffTrax: The Game update out tomorrow (version 1.2), patch notes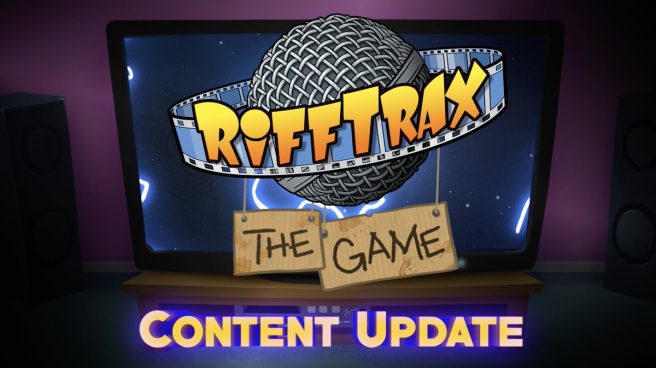 The Switch version of RiffTrax: The Game will be receiving a new 1.2 update tomorrow, it's been announced.
New content is planned including 30 new clips. Twitch streamers will find some new options as well. That's along with Pick A Riff, Riff Bot, and more.
Below are the full patch notes for the RiffTrax: The Game version 1.2 update:
New Content

New SFX, Pick-a-Riffs, and Riff-for-Me audio!

30 new clips from films such as Samurai Cop, A Talking Cat, Guy from Harlem, Setting Up A Room, and more!

Streaming

Twitch Picks a Clip – While players are entering their riffs, Twitch chat can vote on the next clip to riff.
Twitch Plays Pick a Riff – Chat can act as a player in PaR mode. Chat will automatically be dealt new Pick a Riffs each round.

Pick A Riff

Riff Refresh Every Round – You can now enable auto-refresh riffs each round for all players. This option is found on the the game setup screen.
Moderation – Moderation is now enabled in Pick a Riff mode.

Riff Bot

Options – Moved all Riff Bot options to it's own sub-menu.
Riff Bot IQ – Player can now adjust Riff Bot's IQ for each game mode. Each setting (Hi, Med, Low) adjusts the frequency of random responses by Riff Bot.

Audio

Disabled "Hurry up!" audio prompts in games where Twitch Chat voting is enabled.

Bugs

TTS – Fixed a bug where non-English TTS would not play for remote players
Winner Audio – "And the winner is…" audio is now synced across all remote players.
All RiffTrax: The Game players can access the 1.2 update starting June 22, 2022.
Leave a Reply