River City Saga: Three Kingdoms Japanese release date announced
Posted on November 26, 2021 by Ervin in News, Switch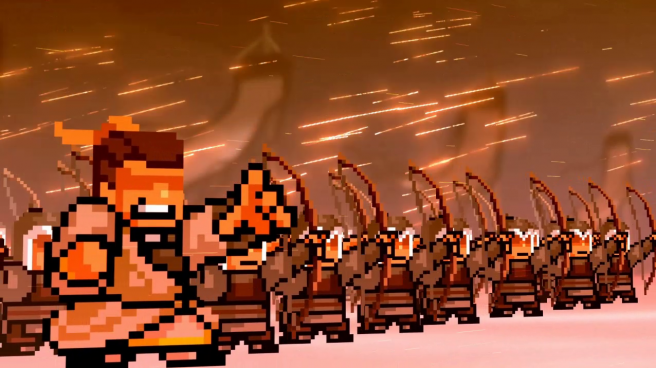 Publisher Arc System Works and developer APlus Games have announced that River City Saga: Three Kingdoms is coming to Switch in Japan on December 16. Additionally, some new gameplay details have been revealed for the game, along with a new trailer.
In addition to the game's base mode, a 4-player cooperative mode called "Record of Three Kingdoms: Red Cliff Chapter" has also been announced, playable with each player using individual Joy-Con.
A total of 10 stages and 12 characters have been confirmed for the game, with some stages being hidden.
In case you missed the original announcement, here is an overview for River City Saga: Three Kingdoms:
About

In Kunio-kun no Sangokushi dayo: Zeiin Shuugou!, the characters of the Kunio-kun series run-amok in the world of Sangokushi. The game, which follows the flow of the popular Downtown Special Kunio-kun's Historical Period Drama!, sees players cross countries and challenge the Romance of the Three Kingdoms.

Set in the late Han Dynasty during the Warring States period where local warlords rivaled against each other, a nonsensical and exhilarating comedy adventure will unfold with Guan Yu (Kunio) as the protagonist living in the turbulent age. Additionally, familiar characters will also appear as warlords and tacticians, dyeing the world of Sangokushi in Kunio-kun. Experience the start of the turbulent age that is the "Yellow Turban Rebellion," the famous "Battle of Red Cliffs," and more in the style of comical action.

Belt-Scrolling Action

The game uses the series' familiar "belt scroll action." Intricately connected areas form a vast stage. In addition to battlefields, there are also towns and villages where you can shop. You can also go sightseeing in various terrains by visiting every corner of each area.

Flashy Strategems

When talking about Sangokushi, flashy "Strategems" are always there to turn the tables. Using powerful Strategies will have a huge effect on all the enemies on the screen. Also, you can also discover secret rooms and hidden passages by using them in certain places…

Characters

Guan Yu (Kunio)
Liu Bei (Gouda)
Zhang Fei (Godai)
Zhang Bao (Sawaguchi)
Zhang Jue (Nishimura)
Tennin (Momozono)
Leave a Reply