Rogue Heroes: Ruins of Tasos getting a physical release on Switch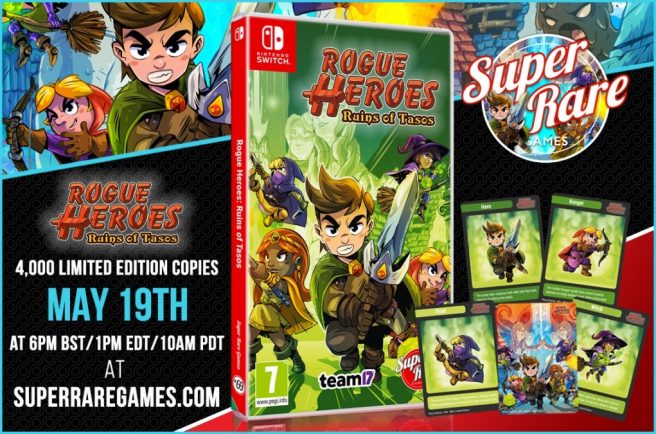 Super Rare Games announced today that in partnership with Team17 and Heliocentric Studios, it's producing a physical version of Rogue Heroes: Ruins of Tasos.
4,000 copies will be made. Each unit contains all the current content, including the recent Druids & Dungeons Update, on its cart, a full-color manual, interior artwork, an exclusive sticker, and trading cards.
Rogue Heroes: Ruins of Tasos originally came to Switch in February 2021. We have more information about the game below.
A dark evil stirs beneath the once peaceful land of Tasos… Deep within the four Great Dungeons, the ancient seals that hold the Titans at bay are gravely weakened and their minions have unleashed terror upon the world. The Goddesses who once forged these seals make a desperate plea for a band of heroes to come forth and save the world. Do you have what it takes to save Tasos in this roguelite adventure, and more importantly… are you going it alone or with your friends?

Play solo or multiplayer – Embark on your adventure solo or work together with up to four players in co-op mode. Puzzles and challenges will scale depending on the number of players so synergizing your skills and collaborating is key to defeating each dungeon.

Classic feel with a modern twist – Classic in its topdown-style gameplay but with a modern-day colourful pixel art visuals and a wealth of options for puzzles and combat, Rogue Heroes lets you choose from a variety of tools, spells, and weapons to tackle the fearsome monsters and challenges that await you.

Delve into dungeons – No two runs in Rogue Heroes feel the same thanks to the procedurally generated dungeons. Each room has hand-designed layouts, traps, puzzles, and enemies all with randomised configurations, making every run feel fresh and different.

Endless customisability – The multiple classes all come with their own stats and unique abilities. You also have a large range of tools, spells, and weapons at your disposal – everything is upgradeable! Find the build that works for you to take back Tasos!

Restore your home – Spend your hard-earned loot on new buildings for your village of Intori and in turn gain access to new upgrades for your characters.
The physical version of Rogue Heroes: Ruins of Tasos will go up for pre-order on May 19, 2022 at 10 AM PT / 1 PM ET / 6 PM in the UK / 7 PM in Europe. Super Rare Games will have reservations here.
Source: Super Rare Games PR
Leave a Reply