Rumor: More Mario + Rabbids Kingdom Battle details – origins, game details, possible amiibo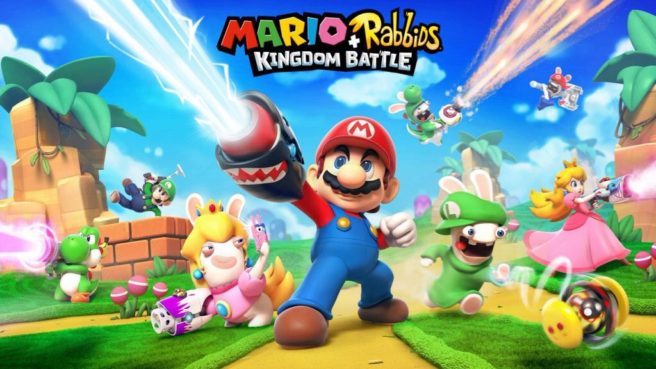 WWG was the first site to have posted the full key art for Mario + Rabbids Kingdom Battle. Following up on that, a new article has been shared with additional details.
Today's information covers the game's origins (including a potential start on Wii U), more game details, and possible amiibo. We've rounded up the tidbits below. You can also read the full article here.
– Development began roughly three years ago
– Not a case of Nintendo approaching Ubisoft
– Supposedly Ubisoft's brainchild
– Began as a proposal that went through the standard pitching process one has to go through to get a game made at Nintendo, including a presentation to their higher ups
– Site's sources say they have seen functional prototypes of a Wii U version of the game at various points in development
– Ubisoft Milan is handling the core creative direction
– Prevailing sense of Nintendo letting go of the reins with the project
– Nintendo reps are closely overseeing it and approval is needed for anything concerning the use of their characters
– However, even the most outlandish ideas from the developers have been met with little resistance
– Twisted sense of humor
– Has surreal, self referential gags
– Early prototype had a hulky Donkey Kong themed rabbid serving as one of the first boss encounters
– The rabbid has access to a pile of bananas that it can use to replenish its health
– Players are required to first cut off his food supply to prevent him from recovering before they can do some real damage
– The DK rabbid apparently will dab periodically if it lands an attack correctly (a possible reference to DK's dab from Mario Kart 8)
– Once the boss is defeated, one member of the player's party, a rabbid cosplaying as Princess Peach, takes out a smart phone and nabs a selfie with the DK Rabbid as it collapses
– All playable characters have an individual skill tree of sorts through which they can develop their own special abilities
– Each one starts with a base skill that they can later improve
– Learn new skills as well
– Ex: Mario has a passive ability which enables him to automatically fire at an enemy if they enter his field of vision during the enemy's turn
– Some of these powers are common across multiple characters
– Unique ones like Peach's powerful ability to inflate enemies using a foot pump until they explode
– Online suite was apparently being tested several months back, but it was inaccessible in the test build
– "Arena" mode spotted in the test UI promising some local co-op action.
– amiibo support seems to be planned
– Prototypes feature a mode dubbed 'amiibo machine'
– Ubisoft is said to be producing prototype figurines of some of the game's characters
– These could be for a potential Kingdom Battle amiibo line
– Was planned to be announced during Switch's unveiling in January, but was pushed back to receive further polish
Leave a Reply