Rumor: Nintendo E3 material leaks Fortnite, Dragon Ball FighterZ, Overcooked 2, and more for Switch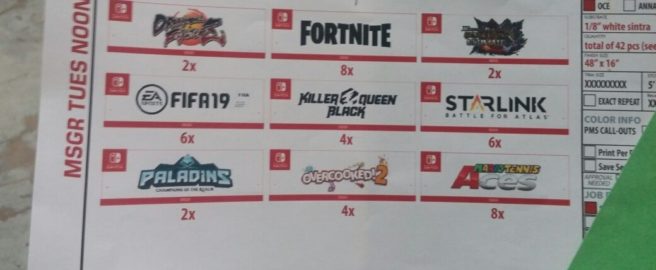 A new rumor is making the rounds about potential Switch titles that will be featured at E3 2018 in June. Fortnite, Dragon Ball FighterZ, and Overcooked 2 are just a few of the games highlighted.
The image above was posted on 4chan, which is where most are referencing as the rumor's origin. However, a PR printing company and LA print shop employee may be involved here. The document could very well be a part of E3 showroom display planning.
While it may be easy to dismiss this rumor, Kotaku has reason to believe the document is real, and claims Fortnite is indeed coming to Switch. The site further adds that it has heard about an upcoming port of Dragon Ball FighterZ for Switch. Also, the Twitter account for Killer Queen, an indie arcade strategy game released in 2013, has all of its images to black.
As always, we have to warn folks that this update should be taken with a grain of salt. Another thing to point out is that these may not be the only games featured at Nintendo's E3 booth, nor are they representative of every title that will be in the video presentation – we know there's Smash Bros., for example.
Leave a Reply