Rune Factory 5 details and screenshots – battle system, townspeople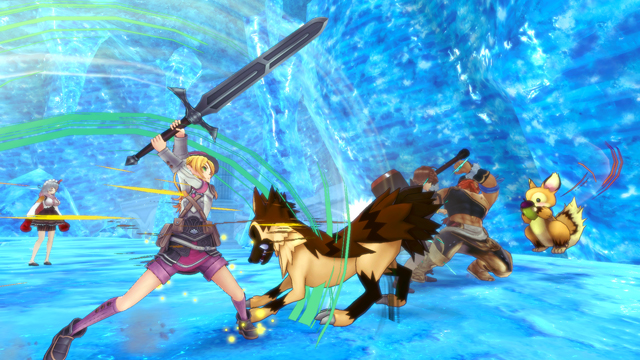 Marvelous issued a fresh batch of details and screenshots for Rune Factory 5 today. The latest update covers aspects of the battle system like weapons as well as additional townspeople.
Here's the full roundup, courtesy of Gematsu:
Weapons
– Eight weapon types with unique characteristics in the game
– By continuously using the same weapon type, you can improve your skills and learn step attacks, charge attacks, and more
– One-Handed Sword: With stable performance, you can attack without losing your guard
– Two-Handed Sword: A weapon with high attack power and wide reach
– Dual Swords: A weapon that allows for quick, continuous attacks
– Spear: A weapon with long reach that allows for distanced attacks
– Axe: A weapon with a high single-blow critical rate
– Hammer: A weapon with high attack power and a stun attack
– Fists: A weapon that allows for quick attacks that send enemies flying
– Staff: A weapon that allows for a variety of attribute magic, charge attacks, and more.
Rune Abilities
– Rune Abilities are special attacks and recovery abilities that cost RP (Rune Points)
– Can switch between your Rune Abilities at any time
– This lets you to expand your battle style to match the enemy's strengths and weaknesses
Seed Circle
– Seed Circle is an item that members of Seed can use to hold (restrain) and bound a monster, or connect (capture) them to temporarily make them your ally
Adventure with Friends
– By taking the townspeople and monsters you befriended out on your adventure, you can fight alongside them in battle
– Just like the protagonist, they will also level up through continuous battle
Randolph
– Old man and honest baker
– Always smiling and kind in his response
– He loves his wife Yuki
– Wants to make a new type of bread
Yuki
– Old woman who runs a bakery with her husband
– Has an innocent personality, without any preconceived notions or fears of others, and takes things as they come
Heinz
– A man with an ever-so-innocent look an his face
– Runs a shop, but wants to entrust it to someone else so he can do something fun
– Never looks people in the eyes when talking to them
Doug
– Dwarven blacksmith who serves his customers well
– He is no match for the senior women in town who have known him since his young, unexperienced days
Palmo Crasi Viviage
– Famous architect whose voice can be heard from the royal palace to the regions beyond the sea
– Constructed most of the buildings in Rigberth
Rune Factory 5 will debut on Switch in Japan on May 20. It will follow sometime in 2021 in North America and Europe.
Leave a Reply