SEGA Ages Puzzle & Action: Ichidant-R first details and screenshots released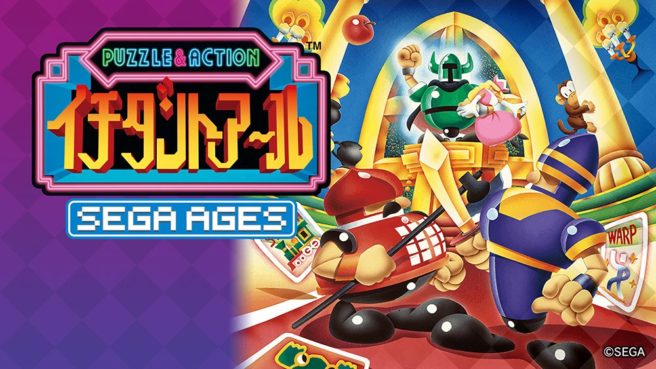 SEGA has announced that Puzzle & Action: Ichidant-R will be released on Switch as the next SEGA Ages game on Switch. Additionally, first details and screenshots are in. You can find the full roundup below, courtesy of Gematsu.
Arcade Mode
– The odd duo return, only this time as a pair of knights in a medieval world
– Clear four stages and 10 rounds of mini-game battles to save the princess kidnapped by the Demon King
– The vivid graphics only available in the arcade version are reproduced in this version
– If you use the helper, you will start the game with 20 hearts and there is only one quota per mini-game, so you can play faster and more casually
Mega Drive Mode
– Rather than a simple port of the arcade mode, a "Quest Mode" in which you can enjoy RPG-esque scenes is implemented
– Up to four players can compete in "Competition Mode," which was not possible in the arcade version
– It supports both TV mode and table mode
Quest Mode
– Level-up while collecting Philosopher's Stones to defeat the Demon King
– It supports up to two players
– The story is as follows: One day, a Demon King appeared in a peaceful kingdom. The Demon King took the princess hostage and commandeered the castle, erecting a barrier around it. To defeat the Demon King, you must collect the Philosopher's Stones scattered about the world to destroy the castle's barrier. The knights who set out on this journey hear the story of the Demon King from the people of a village, then begin their journey to collect the Philosopher's Stones.
Competition Mode
– Progress through a sugoroku-shaped field and compete in the games on the tiles you land
– Up to four players are supported
Free Mode
– Earn points based on your performance
– The player who reaches a certain number of points first will win. Up to four players are supported
Network Play
– Play with other players across the country in the arcade version
– While it is a cooperative gameplay mode in which the game progresses so long as either player clears the mini-games, it still is a competition of which player is quicker to clear the mini-games first
Leave a Reply