SEGA on Sonic – Sonic Boom TV series seems to be over, focusing on "high quality content", more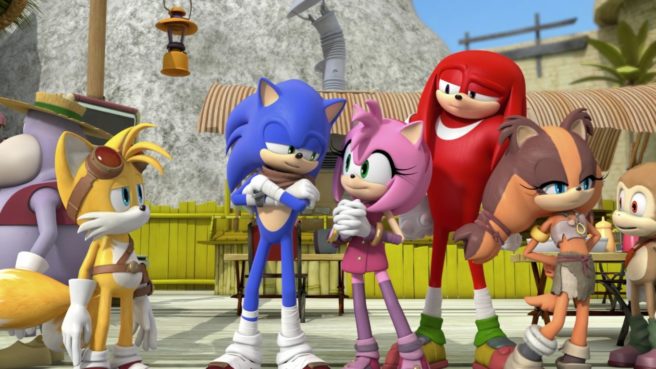 Ivo Gerscovich, chief brand officer for Sonic Studio at SEGA of America, recently held a Reddit AMA. Gerscovich addressed several questions from fans regarding the IP's future and more.
One important note concerns the status of Sonic Boom. The days of the Wii U and 3DS games are long gone, though a show had been airing through the end of 2017. With a lack of news over the past couple of years, it's unsurprising that the show appears to be over. Gerscovich said "there are no plans for a new Sonic Boom specific TV series or game." Some fans believe that the comment leaves the door open to more episodes in the future, but executive producer Bill Freiberger has been putting out tweets indicating that the show is finished.
Elsewhere in the AMA, Gerscovich was asked about the future of the Sonic brand. Gerscovich said SEGA will be focusing on "respecting the past while looking to evolve the brand and its characters and storylines for the future across all content, products, and platforms." He also stressed the importance of releasing "high quality content".
Here's a full roundup of the important bits from the AMA:
On how the Sonic brand has evolved since he became chief brand officer…
Since 2015, our passionate Sonic Studio team here in Los Angeles and worldwide has been focused on going back to what made Sonic great originally but of course now with new twists and surprises. It's about one foot in the past and one foot in the future.
Fans know that we've been bringing back the brand's edginess, humor, and attitude, and now there's new Sonic mobile titles (including Sonic Racing on Apple Arcade), new console titles like Mania/Forces/Team Sonic Racing, a great new movie (by the way the DVD just came out yesterday with a lot of very cool extras including History of Sonic and cast behind the scenes), new comics, many new consumer products (toys, collectibles, etc.), new short form animations, new social media channels, and the Sonic Boom TV show.
On the possibilities of more crossovers…
It's an interesting idea that we're seeing more of in content. I think it's a fun way to take a brand and do something fresh BUT it has to be done with the right combination of brands and at the right time. There are brands that are synergistic and complementary and many examples of mashups that have made people scratch their heads.
On the possibility of Christian Whitehead's Sonic 1 and 2 ports for consoles…
Time will tell! Working with talented developers like Christian Whitehead was wonderful for Sonic Mania. While we don't have any news on these ports right now, we're glad to see that so many people would like them!
On Sonic's redesign for the movie…
The end result for the film was extremely positive and introduced Sonic to a whole new generation of fans in a fun, exciting way that long-time fans also enjoyed. I think getting the character right was key to the success of the film. Working with such passionate partners as the film-makers and studio ensured that when the fanbase spoke up that they were listened to. I think that was a big, pivotal moment in entertainment history. It shows you how much everyone working on Sonic values and respects the audience.
On balancing the different iterations of Sonic…
That's an interesting and insightful question worthy of a very long response; however, I will try to do it quickly.
The short answer is "yes, it can be complicated" when you have different iterations of your key characters, storylines and worlds. However, we pay great respect and homage to where Sonic and friends have been over the years. The fact that we have great talent such as Iizuka-san, Nishiyama-san, Sonic Team in Japan, and numerous very core fans internally within our group in Los Angeles and globally, helps to make sure that we keep our bearings as we look to innovate on a 29-year-old brand that has many different types of fans that engage with many different forms of content. But the challenge is also what makes things fun! Never a dull moment in Sonic-land.
On the status of Sonic Boom…
We plan to keep Sonic Boom airing and selling games, but at the moment there are no plans for a new Sonic Boom specific TV series or game.
On the future of the Sonic brand…
Though it will take many forms, the future is about respecting the past while looking to evolve the brand and its characters and storylines for the future across all content, products, and platforms. Bringing high quality content to fans all over the world is our mission.
Thanks to Greatsong for the tip.
Leave a Reply