Shakedown: Hawaii gets new "Full Tank" update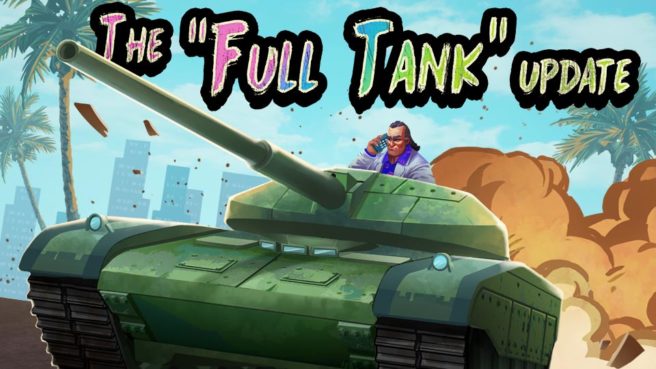 Vblank Entertainment has announced that it is now offering a new update for Shakedown: Hawaii. The studio has added in new vehicles and vehicle purchasing, new shakedown missions, and more.
Below are the full details of the "Full Tank" update plus a trailer:
WHAT'S IN THE UPDATE?

Adds new vehicles including tanks
Adds more enforcement types including agents
Adds a zoomed-out camera option
Adds new shakedown mission scenarios
Adds heat system to shakedowns
Adds off-island travel from the airport
Adds vehicle purchasing
Adds transferring funds to other characters
Game console in living room is now playable
Improves property selection on map screen
Misc. bug fixes

Shakedown: Hawaii for Nintendo 3DS is also wrapped and currently in certification. A release date will be finalized once it's approved. It will include all of these updates!

NEW VEHICLES

Tanks are finally in the world of Shakedown: Hawaii… and bulletproof military SUVs!

The tanks crush anything in their path, and come loaded with built-in rockets and unlimited ammo! Want to equip them with something else? No problem! They can also fire your character's other weapons… from the pistol to the hair dryer, to the flamethrower!

You can rotate the turret with the Right Stick / C Stick, and fire by pressing either the shoot button, or by clicking the stick (R3). PC keyboard players can choose to use either the Arrow Keys or WASD under the options menu.

To get your hands on a tank or bulletproof SUV, take your shenanigans to a level 6 and survive long enough to hop into one, then park it inside a garage to save it for later. Alternatively, after purchasing the prison, a tank will appear parked out back on the left side of the building.

MORE ENFORCEMENT TYPES

The "cops and robbers" sandbox experience has also been beefed up. Once you reach level 5, agents will now spawn, wielding a wide arsenal of artillery. If you can survive them, once you reach level 6 you'll need to face off against the military in their bulletproof SUVs and tanks!

NEW ZOOMED-OUT CAMERA OPTION

By popular request, a third camera option has been added which allows you to zoom the camera waaaaaay out and see much more of the screen, showcasing the pixel art on a whole new level.

SHAKEDOWN ADDITIONS

A couple more shakedown scenarios have been added to increase the variety of these optional micro-missions, including a hair dryer chase!

Additionally, to improve the experience and pacing, a new shakedown heat system has been added. If you shakedown too many businesses over a short period of time, the authorities will be on high alert. In order to continue shaking down more shops, you'll need to change your disguise, go back to completing story missions, or wait until the heat has cooled.

OFF-ISLAND TRAVEL

After purchasing the airport, you'll now be able to travel back to off-island locations such as the farms and jungle areas. Some of these locations hold secrets areas and items, so keep an eye out.

VEHICLE PURCHASING

Vehicles can now be purchased from the car dealership located in the middle of the map (under your VR startup).

TIP! Easily earn cash to purchase vehicles by selling unwanted ones to the auto export located on the far left of the map.

CASH TRANSFER

It's time you give Scooter and Al a raise! From the Salary Management menu, you can now transfer pocket cash to other characters as well as your company. If you accidentally paid yourself too much and need to acquire some more businesses, just transfer it back using this handy menu.

LIVING ROOM

Well, you've requested it! So, yes, if you do want to play more… erm… Space Bullet Marine… the "game console" is now playable in your living room!

MAP SCREEN

The map screen now displays alert icons on properties in need of expenditure approvals, and features and improved snap on hover when selecting properties for purchase.
Leave a Reply