Shakedown: Hawaii – "The Shake-Up Update" out now (version 1.0.4)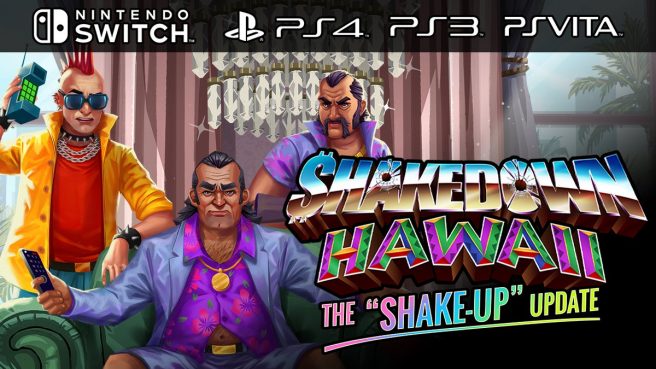 Shakedown: Hawaii has received a major patch. Version 1.0.4, known as "The Shake-Up Update", is live on Switch and will be out on 3DS soon as well.
The new update includes a new difficulty mode, new types of shakedowns, a quick menu for upgrades, little tweaks and refinements, and more. Additional information from developer Vblank can be found below.
The latest Shakedown: Hawaii update, titled "The Shake-Up Update", is now available on PC, Nintendo Switch, PS4, PS3, and PS Vita. The Nintendo 3DS update's also just around the corner, and should be through Nintendo certification shortly.

This brand new update is a major one, adding a whole new difficulty mode, new types of shakedowns, a quick menu for upgrades, and much more. It also brings a long list of little tweaks and refinements that've gradually made their way into the game since the previous console update.

The newly added "Normal" difficulty setting is a top to bottom rebalancing of the game. The original experience remains available as the "Easy" difficulty setting (and will remain the setting for your previous save games). Since the original game was specifically designed to be on the easier end, it made more sense to label it this way, rather than calling the new mode "Hard". The new normal mode is designed to offer more challenge, but not to the degree of being experts-only.

Among the many other changes, the added difficulty mode boasts new and more challenging enemy types across its story missions, sidequests, and shakedowns. New bulletproof and even fireproof enemies will appear as the game progresses, necessitating the use of more varied attacks. When they arrive, ordinary weapons will no longer do, and you'll need to dodge, jump stomp, melee, or throw things to defeat them. Trying to take them out with a vehicle won't always do the trick anymore either, as many will blast you out and force you to continue your battle on foot. There are also fewer health drops, which encourages a more strategic approach and steers you towards more exploration. You'll need to start to pay more attention to where pick ups, shops, and vending machines are so you can replenish your health.

I'm incredibly happy with how the new difficulty setting's turned out, especially as someone who's played through the game more times than I can count. It breathes a whole new life into the experience and I definitely think it makes a second playthrough worthwhile.

The empire building metagame has been extensively rebalanced under the new difficulty setting. Properties are more widely affected by inflation, multipliers give a more balanced boost, and shakedowns give higher rewards to encourage a broader approach. The overall changes make acquiring the island feel much more rewarding, and give further room for varied strategies to calculate an optimal speedrun. The order in which you unlock and acquire properties, which types you collect first, which ones you apply multipliers to, and when you complete specific missions — it will all drastically affect how quickly (and cheaply) you can dominate the city.

New shakedowns have been added to add to replace some of the repeated scenarios. Many of the original scenarios have also been updated with additional layers of gameplay, combat or challenge when played through the new difficulty mode.

As for the Arcade Challenges, some have been tweaked and tuned, but they all remain a singular difficulty (unaffected by the difficulty setting). This ensures all leaderboard entries are on an even playing field.

For additional information on other tweaks included in this update, check out the previous posts here and here. Thanks so much for playing! I hope these improvements make the game even better for you. If you discover any game bugs or issues, don't hesitate to email support.
Leave a Reply