Shin Megami Tensei V gets new batch of details and screenshots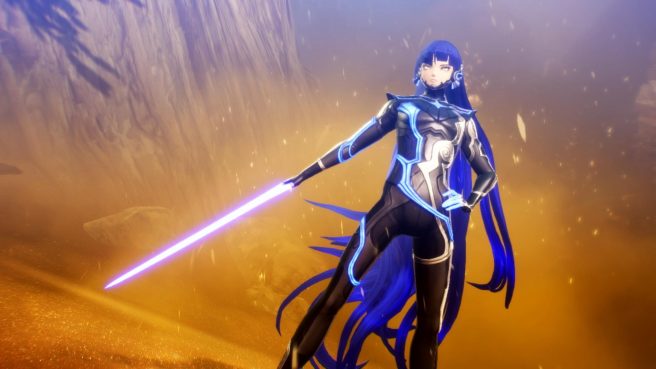 Atlus has passed along a new batch of details and screenshots for its Switch-exclusive RPG Shin Megami Tensei V. The latest news blast covers characters, story, combat, and more.
Here's the full rundown:
Overview

In 1992, the very first SMT title was released to the world. The dark narrative that delved into anarchic themes uncommon in games at the time, paired with the innovative battle system where players recruit demons and gods to fight alongside them, led the game and series to gain a cult following. The critically acclaimed Persona and Devil Summoner series all began from here. Now, in 2021, the newest installment of the series "SMTV," will deliver a all new demonic experience that fully utilizes the high-quality graphics that a modern console brings, while staying true to the series' roots.

Story

The protagonist is a third-year student living a peaceful but mundane life in the dorms of Jouin High School. It's the period in his life when he needs to start thinking seriously about his future. One day, on his way home from school, the protagonist and his classmate try to pass through the Shinagawa train station. However, there's been a grisly murder incident there, and the path has been blocked off.

In the confusion, the protagonist is separated from his friend, and approaches a nearby tunnel to find him. The tunnel collapses, and he loses consciousness. When he awakens, the protagonist finds himself in the middle of a desert. and is attacked by otherworldly creatures called "demons." While running away, a mysterious savior suddenly appears.

"Young man, if you wish to live, take my hand."

The two reach for each others' hands, and they unite to become a
mighty being neither human nor demon: a Nahobino.

After acquiring the power to fight back, the protagonist wanders throughout the barren Tokyo, now called Da'at. Here, colossal dragons and demonic tyrants run amok, and the countless mythical deities and demons are in a state of constant conflict to fight for their survival.

What exactly happened to Tokyo?
And what does being a Nahobino mean?

While searching for answers, the protagonist finds himself becoming entangled in the battle between gods and demons to decide the fate of the world.

Protagonist

Third-year high school student. After narrowly surviving a tunnel collapse, he wanders into the deserted world that is Da'at. His hobby is reading.

Aogami

A mysterious man who appears in front of the protagonist while he is being attacked by demons. By taking his hand, they unite to become a mighty being neither human nor demon: a Nahobino.

Nahobino

A mighty being resulting from the fusion between the protagonist and Aogami. He holds the power to fight demons. The protagonist controls the body, and Aogami simply guides him with his voice.

Da'at

The mysterious and barren world of "Da'at" is inhabited by mythological deities and demons, such as fiends the size of mountains, and colossal raptors soaring the skies.

While some demons may befriend the protagonist, others will attack him mercilessly.

As a player, you must fend off these larger-than-life creatures, and continue your exploration of Da'at.

Demons

Throughout his journey in Da'at, the protagonist will encounter more than 200 demons. Aside from a menagerie of classics, the game will also feature several new demons, created by character designer Masayuki Doi.

– Genma: Amanozako

A bubbly and curious demon. She appears in front of the protagonist while he is wandering Da'at, and decides to join him to accomplish a certain goal.

– Brute: Daimon

– Divine: Angel

– Genma: Fionn mac Cumhaill

– Femme: Mermaid

– Fairy: Jack Frost

– Tryant: Molek

– Tyrant: Arioch

System

The unknown frontier Da'at, where deadly demons attack you on sight. The protagonist searches for the truth, and forges his path forward. As a player, you must nurture the power of a Nahobino, sometimes burrowing the power of other demons and utilizing other methods to continue your journey.

Several endings await you.
What future will your choices lead you to?

– Battle: Fight demons with the classic Press Turn Battle System!

– Negotiation: Recruit demons as allies through negotiation!

– Fuse: Visit Sophia, the master of the World of Shadows, and create the strongest demons.

– Growth: All-new mechanics for leveling up. Details to be revealed soon!

– Choices: And lastly, several endings to choose from.
Shin Megami Tensei V launches for Switch on November 12.
Source: Atlus PR
Leave a Reply