Skullgirls 2nd Encore announces Season 1 Pass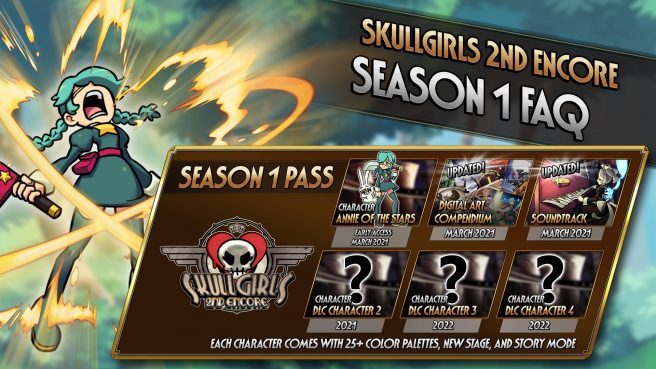 The team behind Skullgirls today announced a brand new Season 1 Pass for the fighter. Four new characters are planned leading into 2022, with each one coming with over 25 color palettes, a new stage, and story content.
Here's the full rundown of DLC:
SKULLGIRLS 2ND ENCORE – SEASON 1 PASS

In addition to the Annie DLC (and our recent announcement of a brand new character in the works), we are excited to announce the first ever Skullgirls Season Pass!

The Season Pass will (minimally) include:
DLC: Annie
DLC: TBA Character 2
DLC: TBA Character 3
DLC: TBA Character 4
Season Pass Exclusive Palette Pack
DLC: Skullgirls OST (including the new Annie Track)
DLC: Skullgirls Digital Art Compendium (Fully Updated!)

NOTE: All Character DLC will include the Character, new Stage/Music, Palettes, and full Story Mode.

FUTURE CHARACTERS

Although Character 2, 3 and 4 have already been chosen (!!!), we are exploring ways in which players who have purchased the Season Pass can contribute to the DLC character release order (e.g. via some form of voting system).

Depending on how well the Annie DLC and Season Pass does – we hope to add even more FREE stuff to the Season Pass list, up to and including a FIFTH Brand New Character! We are still working on the details for this, but if this does come to pass, we will also be exploring ways in which players can also participate in the selection process.
Switch should be receiving the new Skullgirls 2nd Encore content, but we're not entirely sure when. "Although ideally we would launch any new DLC on all platforms at the same time, unfortunately due to unique technical complications regarding the Nintendo Switch port, Annie will not be immediately available on that platform," the team said. "We will provide an update as soon as we have an updated timetable on Switch availability."
Leave a Reply