Skylanders SuperChargers on consoles also features racing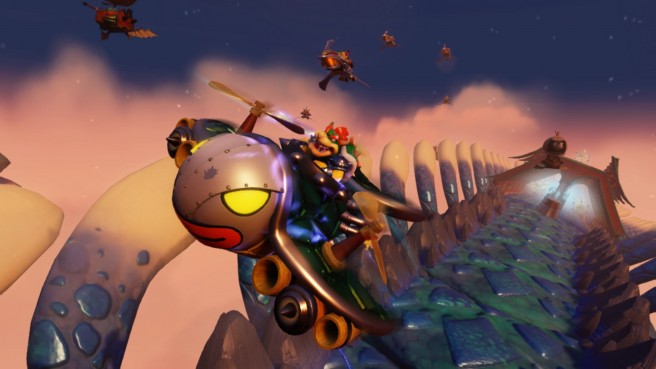 If you're looking for a dedicated racing experience in the Skylanders universe, then Skylanders SuperChargers Racing may sound like the best option to you. However, Activision also has some racing action planned for its main Skylanders game on consoles, Skylanders SuperChargers.
Skylanders SuperChargers will feature online and local multiplayer racing (4 players and 2 players respectively). Here's what you need to know:
Skylanders' all-new Racing Mode, playable in Land, Sea and Sky environments, features supercharged racing combat, layering in even more depth and excitement to the game's online multiplayer component. The high-octane mode is further amplified with all-new time trials, which include three-lap races that take friendly competition up a notch as players battle for the best time score on the leaderboard. All Skylanders SuperChargers Starter Packs will come loaded with six dynamic race tracks – two each for Land, Sea and Sky. With hidden routes, power-ups, and diverse locations, Racing Mode offers completely new ways to enjoy the game. Whether played in offline split-screen or online multiplayer, gamers can choose the best route to finish a race, trying to avoid attacks along the way as they navigate through dynamic environments. Voice-chat is available with friends for an added layer of excitement.
Activision will be bringing out Skylanders SuperChargers Racing Action Packs at launch and beyond. They are optional expansion packs for Land, Sea and Sky. The packs come with three special toys, including a SuperCharger, its signature vehicle, and a villain trophy. With the villain trophy, players can unlock two new tracks and new modes, including SuperVillain Cup, Boss Pursuit and Mirror Cup. There are a total of twelve boss villains across all three packs, with four in each pack, which players can defeat and play as. They can then be stored on their villain trophy toy to play at a friend's house.
Source: Activision PR
Leave a Reply