Smash Bros. Ultimate to host tournament with new fighters only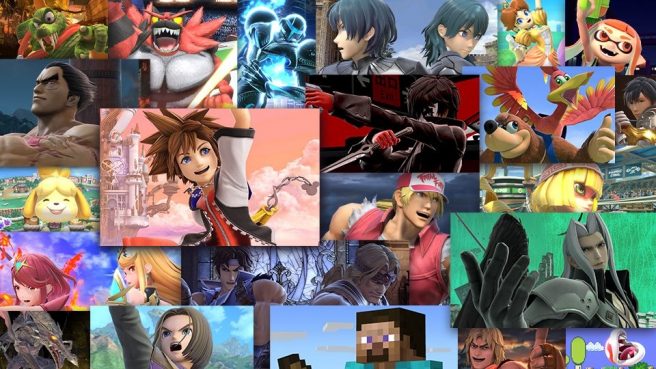 Super Smash Bros. Ultimate is planning a new tournament event focusing on new fighters for this particular game. Characters brought back from prior entries – the original N64 game, Melee, Brawl, and Wii U / 3DS – are not eligible.
You can get a look at the participating fighters above. They include fighters revealed for Super Smash Bros. Ultimate ahead of the title's release like Ridley and King K. Rool, but also all of the DLC fighters: Joker from Persona 5, Hero from Dragon Quest XI, Banjo & Kazooie from the N64 classic, Terry Bogard from Fatal Fury, Byleth from Fire Emblem: Three Houses, Min Min from ARMS, Steve & Alex from Minecraft, Sephiroth from Final Fantasy VII, Pyra / Mythra from Xenoblade Chronicles 2, Kazuya from Tekken, and Sora from Kingdom Hearts.
Despite wrapping up DLC support on Smash Bros. Ultimate, it looks like Nintendo is continuing with its weekly events. Last week, Sora was made available as the final addition to Fighters Pass Vol. 2.
The Smash Bros. Ultimate tournament event featuring new fighters will begin on October 29. It will last for a total of three days.
Smash Bros. Ultimate originally launched for Switch in December 2018.
Leave a Reply