Sonic eShop sale live in North America, Europe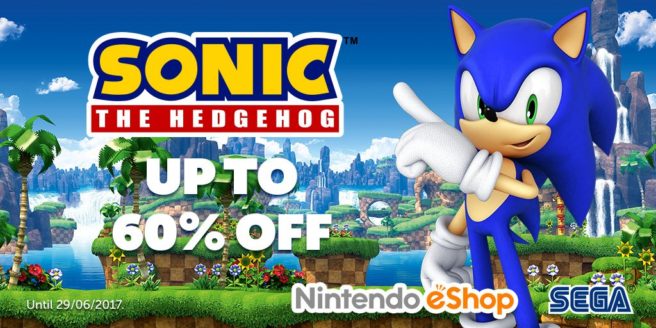 Something you may have seen in today's Nintendo Downloads report was the new Sonic eShop sale. We had prices and the lineup of games for Europe, but now we have the same for North America. Also, while it was mentioned in the Nintendo Download PR, 3DS themes have also been discounted in the states.
In any case, we've rounded everything up for both North America and Europe. All sales prices are listed below.
North America
Wii U
Sonic & All-Stars Racing Transformed – $11.98 (was $29.95)
Sonic Lost World – $14.97 (was $29.95)
Sonic Boom: Rise of Lyric – $14.99 (was $29.99)
3DS
3D Sonic the Hedgehog – $2.99 (was $5.99)
3D Sonic the Hedgehog 2 – $2.99 (was $5.99)
Sonic Boom: Fire & Ice – $14.99 (was $29.99)
Sonic Generations – $11.99 (was $29.99)
Sonic & All-Stars Racing Transformed – $11.99 (was $29.99)
Sonic Lost World – $14.97 (was $29.95)
Sonic Boom: Shattered Crystal – $19.99 (was $39.99)
3DS Themes
Sonic the Hedgehog Theme – $0.99 (was $1.99)
Sonic series: Boom Style – $0.99 (was $1.99)
Sonic series: Cute Style – $0.99 (was $1.99)
Sonic Series: Classic Style – $0.99 (was $1.99)
Sonic series: Sonic Style – $0.99 (was $1.99)
Sonic series: Shadow Style – $0.99 (was $1.99)
Sonic series: Silver Style – $0.99 (was $1.99)
Amy Rose Theme – $0.99 (was $1.99)
Shadow the Hedgehog Theme – $0.99 (was $1.99)
Chao Theme – $0.99 (was $1.99)
Sonic Bundle – $2.99 (was $5.99)
Sonic Bundle #2 – $2.49 (was $4.99)
Sonic Bundle #3 – $2.49 (was $4.99)
Europe
Wii U
Sonic Boom: Rise of Lyric – €24.99 (was €49.99)
Sonic & All-Stars Racing Transformed – €19.99 (was €49.99)
Sonic Lost World – €24.99 (was €49.99)
3DS
Sonic Boom: Fire & Ice – €19.99 (was €39.99)
Sonic Boom: Shattered Crystal – €19.99 (was €39.99)
Sonic Lost World – €19.99 (was €39.99)
Sonic & All-Stars Racing Transformed – €15.99 (was €39.99)
Sonic Generations – €9.99 (was €24.99)
3D Sonic the Hedgehog – €2.24 (was €4.49)
3D Sonic the Hedgehog 2 – €2.49 (was €4.99)
Sonic the Hedgehog: Triple Trouble – €2.49 (was €4.99)
Sonic Drift 2 – €1.99 (was €3.99)
Sonic Labyrinth – €2.49 (was €4.99)
Sonic Blast – €2.49 (was €4.99)
Sonic the Hedgehog 2 – €2.49 (was €4.99)
Sonic the Hedgehog – €2.49 (was €4.99)
3DS Themes
Amy Rose Theme – €0.99 (was €1.99)
Chao Theme – €0.99 (was €1.99)
Shadow the Hedgehog – €0.99 (was €1.99)
Sonic the Hedgehog – €0.99 (was €1.99)
Sonic Boom Theme Bundle – €2.99 (was €5.99)
Sonic series: Classic Style – €0.99 (was €1.99)
Sonic series: Boom Style – €0.99 (was €1.99)
Sonic series: Sonic Style – €0.99 (was €1.99)
Sonic Bundle #2 – €2.49 (was €4.99)
Sonic series: Cute Style – €0.99 (was €1.99)
Sonic series: Shadow Style – €0.99 (was €1.99)
Sonic series: Silver Style – €0.99 (was €1.99)
Sonic Bundle #3 – €2.49 (was €4.99)
Source: Wii U eShop / 3DS eShop / 3DS Theme Shop
Leave a Reply