Sonic Frontiers, Bayonetta 3, Sparks of Hope DLC, and more (plus a giveaway) | Nintendo Everything Refresh Ep. 031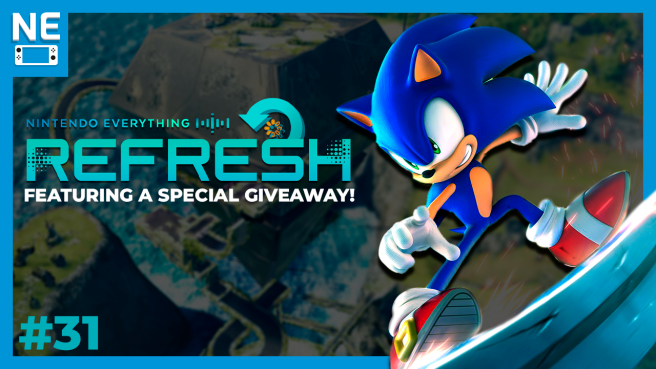 Sonic zoomed onto the Switch this week, and now that Sonic Frontiers is out in the hands of players, what do folks think about it? Join your hosts Nick, Nicolas and Dennis as they talk about the bigger (and smaller) games to pay attention to this week, the development of Bayonetta 3, DLC news for Mario + Rabbids Sparks of Hope, and more!
Also… we're doing a giveaway this week! You could win a digital code for Milk Inside a Bag of Milk Inside a Bag of Milk and Milk Outside a Bag of Milk Outside a Bag of Milk! (Yes, that's the name of the game.) Just visit the Nintendo Everything YouTube channel and leave a comment under this episode of the podcast with the word "MILK" in it to enter. Winners will be announced on the next episode and codes will be sent out via your YouTube inbox! You can also enter over on the official Nintendo Everything Twitter Page.
Our show is available on most major streaming platforms, including Spotify, Apple Podcasts, Google Podcasts, Amazon Music and Audible, or you can check out the video version on YouTube. Direct downloads are also available for free through our friends at ListenNotes. Have ideas or suggestions for the show, or want to submit a fan question or topic for a future episode? Let us know what you think – and thanks for listening!
➡ Inquiries/Fan Mail: [email protected]
➡ Visit the site: https://nintendoeverything.com
Episode Segments:
(00:00) | Intro
(01:46) | Giveaway
(07:00) | Sonic Frontiers Release
(17:38) | Bayonetta 3 dev info
(25:11) | Mario + Rabbids DLC info
(30:50) | Fatal Frame Mask of the Lunar Eclipse release date
(36:08) | Front Mission 1st remake release date
(39:52) | The Oregon trail coming to Switch
(44:11) | Little inferno receiving DLC
(47:13) | Recent releases
(59:54) | What we've been playing?
Hosts:
Nick Serpa: @ndserpa
Nicolas Shadday: @Dayshade1999
Dennis Gagliardotto: @LyonHart_
Luiz Estrella: @Luizestrella_
Leave a Reply