SpiritSphere DX launches July 2 for Switch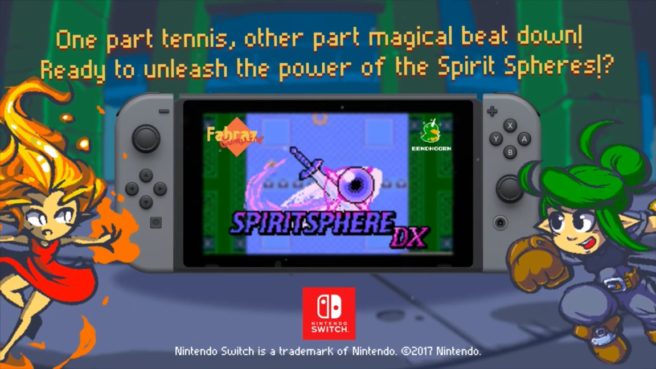 SpiritSphere DX is coming to Switch on July 2, Fabraz has announced. A listing will appear on the eShop on June 18, with discounted pre-orders going live on June 25.
SpiritSphere DX is a mix of tennis and "magical beat down". We have further information and the launch trailer below.
Fabraz is proud to publish Eeendhoorn's game SpiritSphere DX exclusively to the Nintendo Switch! One part tennis, other part magical beat down! Play solo or compete with friends by battling across fantastical realms and unleash the power of the Spirit Spheres! Travel across the mystical kingdom as Lin in single player to rescue her sister Taya and face the nefarious Baphomet before it's too late! Or get 1-3 friends and play a few rounds of competitive sphere smashing! SpiritSphere DX comes with a staggering amount of modes including a squash mode, boss mode, ghost mode, vertical hand2hand mode and more!

Features
– Competitive local multiplayer action!
– Singleplayer campaign with randomized encounters and modes!
– Squash mode: Play a round of competitive sphere squash!
– Boss mode: More than two players but less than three? Play 2v1, where one player controls the boss!
– Ghost mode: Not a strong player but want to contribute? Join as a ghost for shenanigans!
– Target mode: Break the targets in this challenging mode!
– Tate mode: Play the game vertically, each player holding one attached joy-con!
– Multiple stages, characters and spheres to play and unlock!
– Retro flavored graphics and sound mimicking the games of yore!
– Gameplay that is easy to pick up but hard to master!
– Fast paced arcade style gameplay throughout!
Source: Fabraz PR
Leave a Reply