Square Enix reveals The DioField Chronicle, confirmed for Switch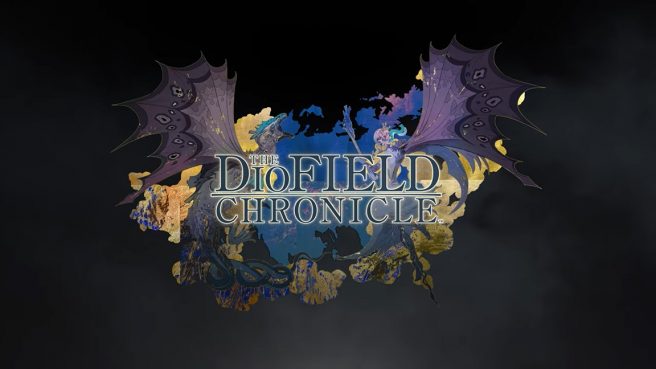 Square Enix today unveiled The DioField Chronicle, a brand new strategy RPG. The title is on track for a launch on Switch later in 2022.
The DioField Chronicle will have players going on an adventure filled with "honor and political intrigue." Square Enix notes they'll "discover a unique blend of fantasy, medieval and modern-day influences, and an innovative combat system: Real-Time Tactical Battle." It's rounded out by "richly detailed environments in diorama-style visuals". Ramin Djawadi and Brandon Campbell (Game of Thrones) are involved with the game's music.
We have lots of additional information about The DioField Chronicle below covering the story, characters, and gameplay.
Story

The era of myths gives way to an era of great turmoil…

The world of men is mired in upheaval, as an age of war rages for years on end. A mercenary band arise from amidst the flames and the chaos, they who's fated deeds will be sung of in ages yet to come.

But when all is said and done, will the name "Blue Fox" come to be a byword for hope or darkest tragedy?

Characters

Waltaquin Redditch

One of the four heads of the Blue Foxes and a noblewoman of the esteemed House Redditch.

Born the daughter of one of Suffield's most prominent noblemen, she has been spoiled her entire life. Accordingly, she can be selfish and arrogant, but her grace, intelligence, and natural beauty are undeniable.

She became interested in magic at an early age, and after immersing herself in wide-ranging studies of Ancient Sorcery, she developed into a peerless magicker.

Fredret Lester

One of the four heads of the Blue Foxes.

He and Andrias have known each other since childhood and share a strong bond of brotherhood borne from the life-threatening situations they've faced together. He is kind-hearted and naive, perhaps due to his upbringing in a beautiful natural environment. People admire him for his directness and honesty, but he has a tendency to become obsessed with whatever he is passionate about.

Possessing superb physical attributes, he could easily serve as an infantryman, but opts to leverage his fine riding skills and freely gallop across the battlefield on horseback.

William Hende

The head of House Hende, a noble house that has gained considerable power in a short amount of time.

William had gone to the continent to study in his youth, and used the knowledge he gained there to help his family gain fame and fortune upon his return. He made an enormous profit by trading Jade to other nations, and used the money to expand his territory. He also embarked upon his own business by incorporating technologies from the continent, which allowed him to become one of the wealthiest people in the kingdom.

When he was selected to be a councillor on the Lords Council, he set up his own order of knights, and has been building up his own military ever since.

Andrias Rhondarson

One of the four heads of the Blue Foxes. He is a calm, cool, and resourceful leader.

As a child he caught the eye of a nobleman who recognised something special in him, and after being trained as a soldier he became the chamberlain and bodyguard of the fourth in line to the throne, Prince Levantia Shaytham.

He has studied strategy and tactics, and is well-versed in the Ancient Sorcery that has been passed down on Diofield through the generations. He has numerous talented agents in his employ, and is skilled in the art of subterfuge.

Hezeliah Shaytham

The princess of Alletain, born to King Regalt and the third queen Stella, also the mother of Levantia Shaytham.

When the war for the throne became more bloody, King Regalt arranged for the royal family to escape Middenfield and live in seclusion. However, second prince Victor and his close ally Lord Kimble kidnapped the family and imprisoned them in Beasel Tower deep in the mountains. She gives up on the idea of ever being rescued, and resigns to her fate of being kept in her birdcage.

Iscarion Colchester

One of the four heads of the Blue Foxes. The son of a minor noble, he followed the Colchester tradition of joining the local order of knights.

When a tragic incident arose, he left and became a knight-errant, travelling alone across the kingdom. While often aloof, he will never ignore those in need and because of this is respected by his subordinates.

He is a prodigiously talented archer, which served him well while working as a mercenary.

Izelair Wigan

A Blue Fox and the only daughter of Zoruaq Wigan, a famous mercenary of legendary skill.

She inherited her father's fighting prowess and is known for her swift and dextrous swordsmanship. Preferring to avoid bloodshed when possible, she nonetheless proactively seeks out opponents. Sensible and kind-hearted, she is often compelled to turn a blind eye to the horrors unfolding around her on the battlefield.

Gameplay

Distinctive features of the game

A deep and immersive story brought to life with the latest graphics. "Real Time Tactical Battle" (RTTB), a new, highly strategic, real-time battle system. The birth of a new SRPG, crafted by a skilled and experienced development team.

A new Strategy RPG, brought to you by Square Enix

An all-new Strategy RPG that chronicles an epic tale of war and honour. Featuring a unique and beautiful world that blends fantasy, medieval and modern-day influences, and a deep yet innovative real-time battle system.

Realistic "diorama" style battle scenes

Richly detailed depictions of the environments of the island of DioField combined with unique "diorama" style visuals as you command your forces like a general.

Deep, strategic, real-time tactical battles

The battles in this game are defined by real-time assessment of battlefield conditions and issuing decisive orders that take advantage of your troops strengths and weaknesses to gain advantage over your foe. Make clever use of a variety of skills, classes and equipment to complete your mission.
Watch the first trailer for The DioField Chronicle below.
You can check out the official websiteThe DioField Chronicle here.
Leave a Reply