Square Enix shares first Dragon Quest Monsters: Joker 3 details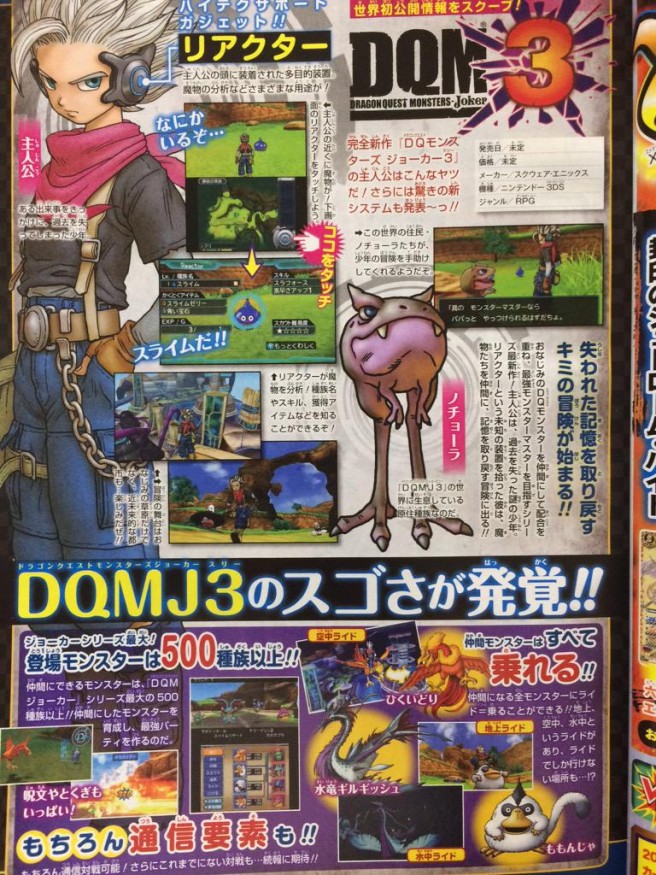 Dragon Quest Monsters: Joker 3 was announced in July, but Square Enix didn't share too many details about the game. Finally though, this week's issue of Jump provides us with the first true tidbits of information.
Here's what's shared in the magazine:
– Set in the near future
– The protagonist is a boy who lost the memories of his past
– He obtains an unknown, multipurpose device called a "Reactor"
– He then sets off on a journey to regain his memory
– The Reactor is equipped with various functions
– Can analyze monsters, among other things
– Over 500 types of monsters in the game
– Ride every monster you make friends with
– Ride monsters be it on the ground, in the sky, or in the water
– There are some places you can't reach without riding there
– Multiplayer battle element included
– Game will have the types of competitions not seen in previous games
Dragon Quest Monsters: Joker 3 does not have a release date at this time. It should be arriving in Japan sometime next year though.
Leave a Reply