SteamWorld Telegraph: Special Broadcast announced for January 23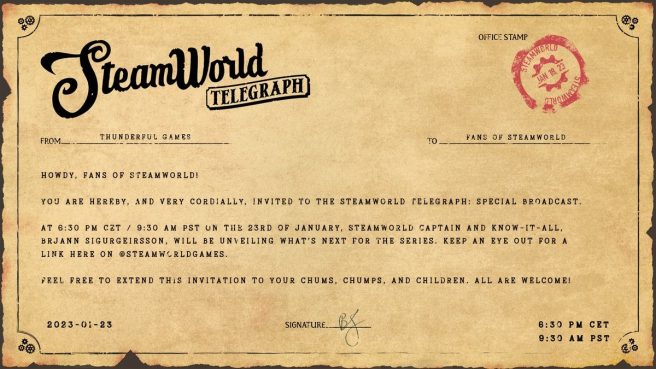 Original (1/16): Thunderful will be sharing news about the SteamWorld series this week (update: SteamWorld Telegraph Special Broadcast, see below), according to a new teaser.
The video below was posted on YouTube and social media today. It's only a few seconds long with Morse code, but the message indicates that something will be happening on January 18.
Thunderful may have something to share about SteamWorld Headhunter, the next entry in the series. That game was announced in November 2021, but we haven't seen it since. Although little is known currently, a few aspects are confirmed. It's been officially described as "a stylized and colorful, third-person co-op action adventure with a head-popping twist" that directly follows the events of SteamWorld Dig 2. While it'll retain "the style and charm" the series is known for, it'll be in 3D.
Every SteamWorld title has appeared on a Nintendo platform, and that's likely to continue with Headhunter as well. SteamWorld Dig 1 and 2, SteamWorld Heist, and SteamWorld Quest are all on Switch. The only one missing is SteamWorld Tower Defense, which has thus far only appeared on DSiWare.
We'll let you know what comes from the SteamWorld tease once the news is shared later in the week.
---
Update (1/18): The SteamWorld Telegraph: Special Broadcast has now been announced, which will cover what's next for the series. It will be held on January 23 at 9:30 AM PT / 12:30 PM ET / 5:30 PM in the UK / 6:30 PM in Europe.
Leave a Reply