Steven Universe: Unleash the Light update out now on Switch (version 3.0.0), patch notes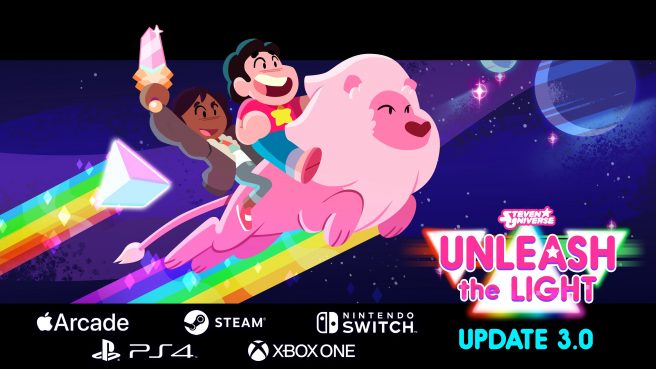 Steven Universe: Unleash the Light recently received a pretty big update. Version 3.0.0 adds Connie and Lion as a duo-character, a new Black Hole Stage Generator Mode, new loot and achievements, and more.
Below are the full patch notes:
• CONNIE & LION join the adventure as a special duo-character (complete with all new upgrades and costumes)! Perhaps you can learn about their whereabouts by visiting the Palace of Light later during your adventure…
• Explore the mysterious BLACK HOLE and experience an all-new mode featuring the new STAGE GENERATOR and THREE DIFFICULTY MODES (each with their own rewards and altered rulesets)! Complete the main story to unlock! 
• 5 NEW ACHIEVEMENTS, 4 NEW BADGES and over two dozen NEW CHARM TYPES to find and unlock! 
• Every character's max level cap has been increased from 30 to 35! (And yes, this means more upgrade points to spend!) 
• You can now replay the second boss battle and unlock both story branch achievements! (Note: If a character has left your party as part of a story branch event, they must return to the party before you can replay this boss battle) 
• When playing with gamepad controllers, you can now hear your party's "idle dialogue" by pushing the action button while they're standing around outside of battle 
• Increased the power of fusions and performed a variety of additional minor balance adjustments across all playable characters 
• Adjusted the final boss stage encounters to be a little more difficult 
• Fixed a number of instances of possible "soft locks"/freezes associated with Bismuth's Barrier, the Light Dopplegangers boss, the PeriDecoy, Garnet's counter-attack, Holo-Pearl, and several other situations 
• Applied various other minor improvements, adjustments, and fixes across the game 
• A 'big' special surprise can now be unlocked…
Get a closer look at the Steven Universe: Unleash the Light update in the gallery below.
Leave a Reply