Story of Seasons: Trio of Towns launches on February 28 in North America, Mario outfits confirmed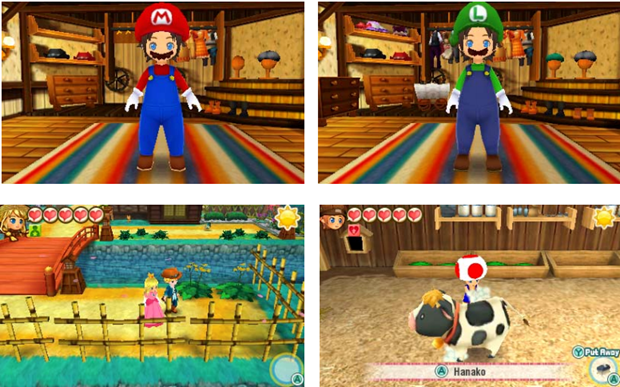 Story of Seasons: Trio of Towns will debut in North America on February 28, XSEED Games announced today. Those who pre-order the title will receive a capybara plush.
Aside from the release date news, the costumes and headgear based on Mario, Luigi, Princess Peach, and Toad originally included in the Japanese release will be coming west. They have the following effects:
– Mario's Outfit and Hat: Mama mia! The iconic plumber's signature red and blue uniform gives your running speed a boost.
– Luigi's Outfit and Hat: Luigi's costume will improve your luck at fishing. Others will be green with envy!
– Princess Peach's Dress and Tiara: This regal dress and tiara will make you better friends with other characters. Sweet!
– Toad's Outfit and Hat: The tireless Toad's outfit causes your stamina to recharge automatically over time.
Here's a more extensive overview of the game:
"In celebration of the upcoming 20th anniversary of the longest-running farming and life simulation series, the beloved Bokujo Monogatari franchise – now known as STORY OF SEASONS in the West – returns with its biggest adventure yet in STORY OF SEASONS: Trio of Towns. Settled on a homestead in the middle of three distinct and uniquely themed locales, players can explore a diverse landscape as they search for new ways to grow their farms and friendships. Extensive customization and gameplay options are on offer in Trio of Towns, with each village offering its own variety of regional crops, lads and ladies to romance, animals, festivals, furniture, decorations and more. More ways to play sprout up as players connect to one another locally or via the internet to chat, trade, and enhance items on a mysterious multiplayer island."
Lastly, here's a trailer:
Source: XSEED PR
Leave a Reply