Suda51 talks No More Heroes Switch – confirms plans to direct, progress update, more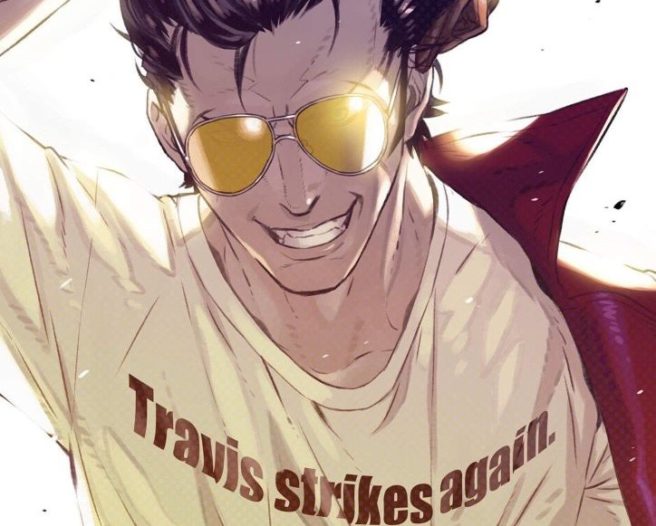 Suda51 revealed at the Nintendo Switch Presentation 2017 that a new No More Heroes game is on the way to Switch. Following the announcement, 4Gamer and Famitsu both spoke with him about what's planned for the project.
First, on 4Gamer, Suda51 said the title is a secret. He was asked if it will be No More Heroes 3, but said he can't answer that yet. The scenario is being written by Suda51 himself, and he'll also be directing the game (first time in ten years that's happening).
An illustration was shown at the presentation drawn by Yuusuke Kozaki of Fire Emblem fame, who will be involved with the project. Suda51 has also been approached by some folks at overseas events who want to work on character designs, and they're apparently pretty well-known figures. He hopes to collaborate with some of these people.
The new title will have collaborations with indie games, Suda51 said. However, details are being kept secret.
The story outline is already determined, but the actual plot points are still in play. Game design planning is almost done. Development will begin right away, though we won't be seeing it this year.
Next, on 4Gamer, Suda51 was asked if Nintendo will be publishing. Essentially, the team will be cooperating with Marvelous and will be supported by Nintendo.
Switch's vibration technology was more than he could imagine and will be implemented here. Suda51 will focus on how to implement immersive, sense of unity and depth of narrative into this title.
Suda51 is currently promoting the re-release of The Silver Case, a previous game he created. The theme of that one was "kill the past" and with this title, he'll be putting that theme on Travis's shoulder. Several killers character designs are already done and are apparently superb.
Leave a Reply