Sumo Digital tweets hinting at some kind of Mario/Sonic racing crossover?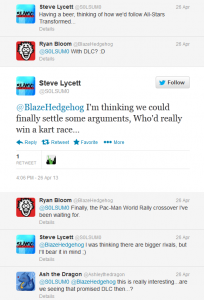 SEGA is working in partnership with Nintendo on three Sonic games: Sonic Lost World, Mario & Sonic at the Sochi 2014 Olympic Winter Games, and an unannounced project. Could that last one be some kind of racer from Sumo Digital, the maker of Sonic & All-Stars Racing Transformed?
Sumo executive producer Steve Lycett sent out a few very interesting tweets last month. Lycett's messages allude to the fact that he'd like to follow-up Sonic & All-Stars Racing Transformed with a new game that "could finally settle some arguments" such as "Who's really win a kart race". When one user mentioned a Pac-Man World Rally crossover, Lycett said he "was thinking there are bigger rivals" – like Mario and Sonic, maybe?
I can imagine two possibilities: a completely brand new game involving Mario and Sonic, or some kind of appearance in Mario Kart's new Wii U outing. On the other hand, it's possible that this is nothing at all and we're completely looking into things.
Thanks to Jake for the tip.
Leave a Reply