Super Mario Odyssey director and producer talk going deeper into Mario and Peach's relationship, deciding on environments, more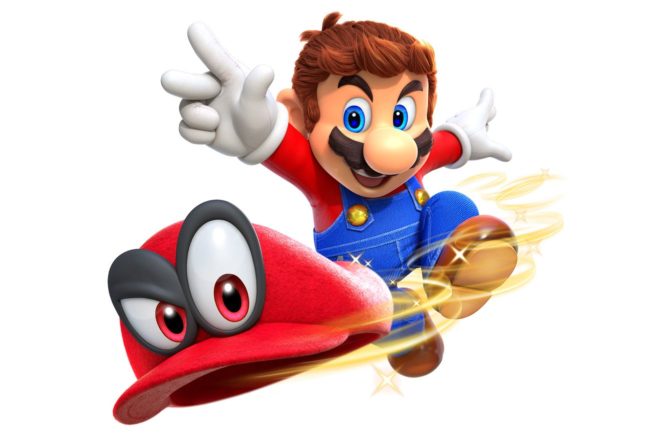 In a recent interview, GQ sat down with Super Mario Odyssey director Kenta Motokura and producer Yoshiaki Koizumi in preparation for the launch of the upcoming Mario title. Motokura and Koizumi discuss deciding on new environments, creating Cappy, delving into Mario and Peach's relationship, and maintaining Mario's longevity as a character and franchise.
We've rounded up the notable quotes below. You can read the interview in full here.
On deciding on what new environments will be fun for players…
Motokura: First it starts with all these different prototypes—we have all these different ideas, and we try to choose the best ones to build a stage. And once we have a stage coming together, we start to think about what kind of setting makes sense for this stage. What kind of style makes sense? So if there's a gameplay idea that involves Mario walking on a slippery surface, we'll say Okay, this idea fits into a snowy kingdom or an icy kingdom. Or if we have a level that makes use of Mario's jumping—what if we make use of a realistic city like New York?
On coming up with Cappy…
Motokura: At the beginning of development, one of the themes impressed on us by Mr. Koizumi was using the Joy-Con for different player actions. One thing that was very natural was the idea of throwing something. So we chose something that was already familiar to players for Mario to throw, so that they would have a sense of empathy and a sense of connection—we decided Mario would just throw his own cap.
On the sense of humor in Mario games…
Motokura:. . . it's very important to us that these games have humor, and that playing will put a smile on people's face. And I think if you have a game that has these responsive elements in it, it allows you to give extra range to situations, where Mario is in a dangerous situation and it shows on his face, or he gets in a more serious situation—so that contrast also allows for other emotional connections as well. I think in this game in particular, Mario [goes through] a lot of different emotions and I think that's something people will very much enjoy about this game.
On Mario and Peach's relationship…
Motokura: Mario and Peach's relationship has been a big part of the games for a long [time], and in this game we're getting deeper into it! One of the themes in the game is the wedding—it got to the point where we were creating that Bowser wedding costume, and it was a big hit within the team as well, we were all pretty crazy about it. So at that point we definitely started getting excited about what the reaction from fans would be when they saw that, it was definitely something we were looking forward to.
On how to create a fun platformer…
Motokura: For me it's a couple of things—one is what I was talking about before, where you touch the controls and there's that kind of intuitive [feeling]—you move Mario, and it's fun! Another thing is giving the players choices. They can try different things and when they do, the game reacts in some way. So there's some kind of relationship between what the player does and what the game gives back.
Koizumi: Something that's very important to Mario games is level design, where there isn't just one goal or one way of clearing it, and that allows you to repeat the same thing, the same gameplay, in a different way and have a different experience.
Leave a Reply