Super Nintendo World's Power-Up Band gets lots of new details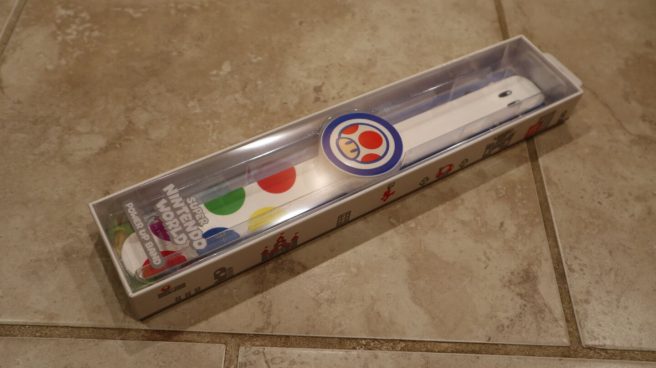 Super Nintendo World is just a month out from its official opening at Universal Studios Japan. Ars Technica has now shared a bunch of additional information about the Power-Up Band and how they work inside the theme park.
Here's the full rundown:
– It's a slap bracelet
– Rack up various virtual currencies (stamps, coins, and keys) by engaging with Super Nintendo World's variety of activities
– You'll need to interact with enough park attractions to earn two of its three keys before you can enter the Bowser Jr. Shadow Showdown
– This is a group activity that pits multiple players against Bowser Jr. and various Super Mario minions
– Your primary interaction comes from collecting stamps
– Some of these are as simple as tapping your Power-Up Band to physical objects at the park like Question Mark Blocks and touch panels
– With some of these, a picture lights up and your work is done
– Other touch panels activate mini-games such as slot machines, "note blocks", and a hide-and-seek challenge where you look for particular characters through a pair of binoculars
– Some stamps can only be earned once, while others can repeat
– Every newly claimed stamp doles out coins
– These coins only factor into a series of leaderboards (some daily, some all-time)
– Nothing about the app hints at microtransactions tied to these coins—though by the time you're done at Universal Studios Japan
– The app includes stamps that can only be claimed during certain months of the year
– Other mini-games listed in the app include "Koopa Troopa POWer [sic] Punch," "Piranha Plant Nap," "Bob-Omb Kaboom Room," "Thwomp Panel Panic," and "Goomba Crazy Crank"
– These each have multiple difficulty levels and award the Bowser Jr. keys
– According to the app, the songs available in the park's "Note Block Rock" attraction include: "Ground Theme," "Water World," "Bob-Omb Battlefield," "Main Theme," "Athletic," "Underground," "Slider," "Airship," and "Ending Theme"
Super Nintendo World officially opens in Japan on February 4.
Leave a Reply