Sakurai talks about Smash Bros. music arrangement process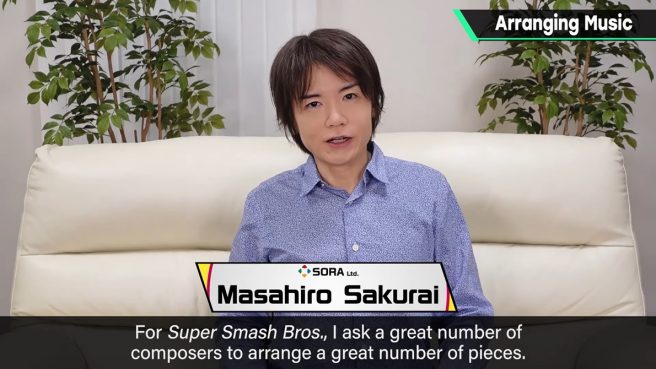 Have you ever wondered what the process is like when it comes to arranging music in the Super Smash Bros. series? Director Masahiro Sakurai provided insight as part of a new video shared today.
Sakurai first started out by explaining that a ton of potential songs are considered – the idea is to cast a wide net, even if some aren't used in the end. After that, composers are gathered and he gives them instructions.
As for what the actual musical arrangements are like in Smash Bros., the tempo and energy need to be suitable or a competitive game. The best practice is to include an intro, the main theme, a deviation, and a loop going back to the main theme. For timed matches in Smash Bros., they tend to be set at two and a half minutes at most, so it's advised to have the arrangement finish in that timeframe with a small loop.
Sakurai sometimes picks a song for the composer to tackle, and there are also cases where they'll ask him specifically to choose. If they're not attached to anything in particular, he will "encourage them to pick a piece they think they'd do well with." Sakurai considers the composer's strength if he's asked to pick.
Once the track is selected, the composer begins their work while referencing the original song. Each piece of Smash Bros. music goes through reviews and brush-ups courtesy of Sakurai himself. The Super Smash Bros. Ultimate sound director chimes in to look over things as well. Sakurai's feedback is for tempo, intonation, mistranscriptions of the original score, and general direction.
You can check out the full video from Sakurai below.
Arranging Music [Audio]
Leave a Reply