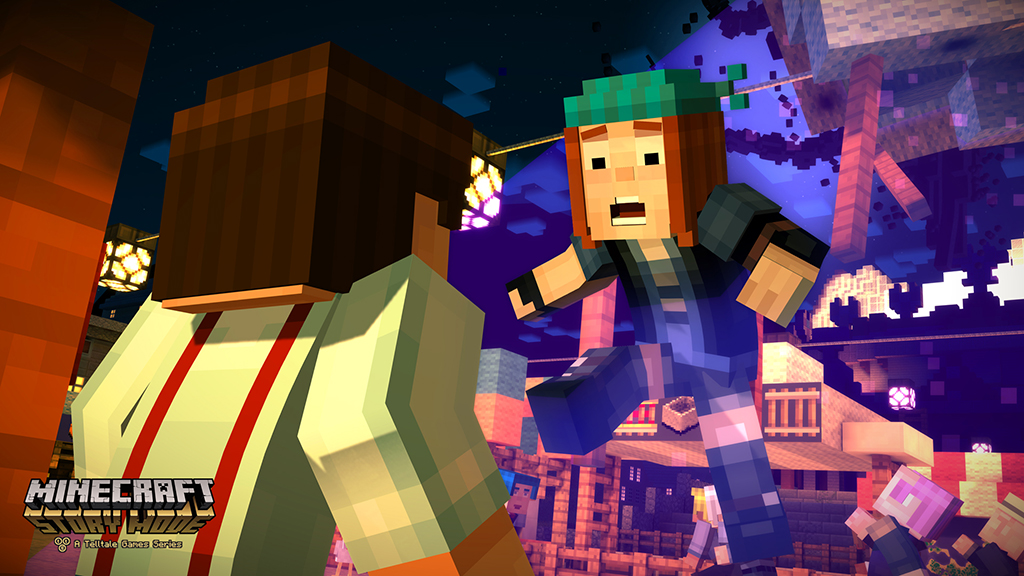 Telltale Games showed an extended gameplay demo of Minecraft: Story Mode during TwitchCon today. We have the full recording below.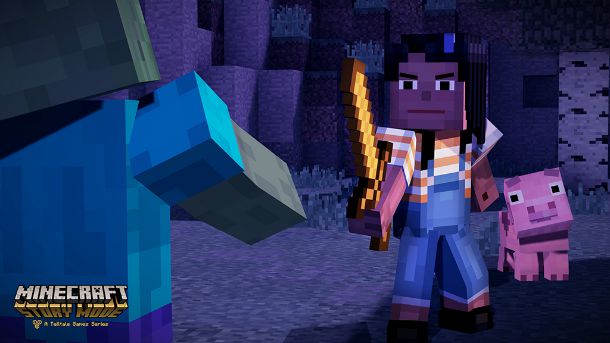 Game Informer has put up a preview of Minecraft: Story Mode based on a hands-on demo of the game. We've rounded up the various tidbits in the summary below.
– Fist time Minecraft has received an official cohesive story arc
– Jesse stars in the first episode
– Jesse: a reluctant hero who can take on one of six different looks across different skin tones and genders depending on what the player wants
– Track Jesse's pet pig Reuben in the first scene
– Guide him along the pig tracks
– Search a large area
– When you reunite with Reuben, a group of creepers, zombies, and spiders close in on the location
– Jesse uses his wooden sword and begins defending Reuben
– The zombies approach first
– Action sequence begins where you press press a button when they get close enough
– Jesse's wooden sword shatters after defeating a few enemies
– Jesse's friend Petra swoops in and saves the two
– In the next scene, Petra and Jesse discuss the wither skull she procured
– She claims to have arranged to trade it to someone at the upcoming EnderCon in exchange for a diamond
– From there, the scene demonstrates Story Mode's take on crafting
– Jesse builds a stone sword from two cobblestones and a stick
– You're given the ingredients here, but you arrange them in the correct way on the crafting table
– The story flashes ahead again
– Something terrible has happened at the EnderCon, and the entire attendee-base is fleeing in horror
– A giant, three-headed beast emerges from the venue and floats toward the crowd
– A beam comes from the beast
– This pulls in anything and anyone in its way
– During the demo, you can only run from it
– Jesse and his friends see their window to escape and take it
– As Jesse runs alongside the rest of the fleeing attendees, you need to guide his path
– Any obstacle you're unable to evade in time with horizontal movement throws a quick-time event your way
– The group reconvenes in a shelter after escaping
– Jesse lights an inactive portal and the group jumps in
– A hardened warrior named Gabriel confronts Jesse about his destiny in helping resolve the issues causing this invasion
– Before they finish their talk, the monster's tentacles smash through the walls and the tractor beam begins abducting Gabriel and Petra
– Can only save one
– Game Informer chose Petra, which leaves Gabriel to float off into the distance
– Petra is safe, but before Jesse is able to escape, one of the monster's tentacles whacks him hard, sending him flying into the portal as the screen cuts to black
– Voice cast features the likes of Patton Oswalt, Catherine Taber, Brian Posehn, Ashley Johnson, Dave Fennoy, Billy West, and Paul Reubens

During PAX Prime 2015, off-screen footage of Telltale's Minecraft: Story Mode was recorded. Check it out in the video below.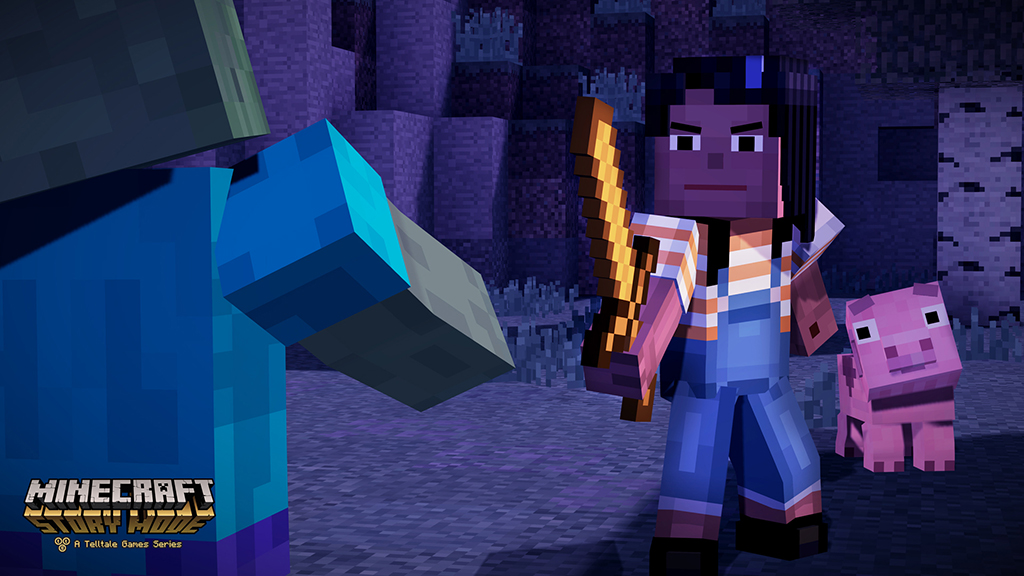 Today, Telltale Games announced that players will be able to choose their character's appearance in Minecraft: Story Mode. This marks the first time that a Minecraft game offers such functionality.
It will be possible to choose from a number of options for male and female versions of the game's hero, Jesse.
Minecraft: Story Mode is due out this fall.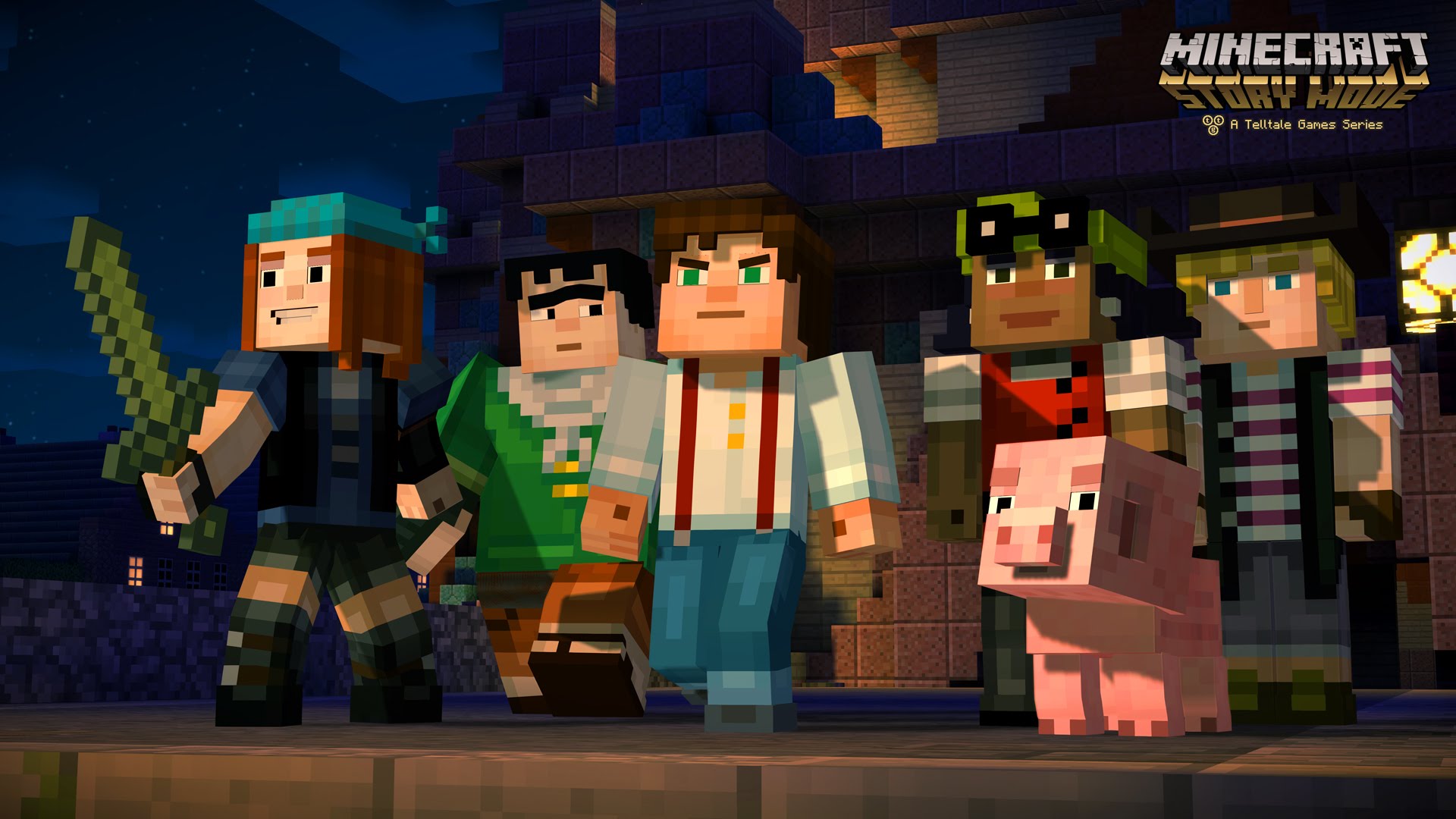 Minecraft: Story Mode is on its way to Wii U, according to The Verge. While it isn't the core Minecraft game that has seen a huge amount of success, this will be the series' first appearance on a Nintendo system.
Developer Telltale Games told The Verge that with its new game, they hope to reach players outside of the Minecraft fandom as well as introduce new people to the franchise.
Here's a trailer released back in July:
And below is an official overview:
"Minecraft: Story Mode is an adventure game set in a Minecraft world. It is a five-part episodic series that will take you to the Nether, the Farlands, the End, and beyond! You will drive how the story flows through the decisions you make: what you say to people (and how you say it), and what you choose to do in moments of thrilling action.

You are Jesse. He and his group of friends revere the legendary Order of the Stone; four adventurers that slayed an Ender Dragon. The Order are the very best at what they do: Warrior, Redstone Engineer, Griefer, and Architect. While at EnderCon, Jesse and his friends discover that something is wrong… something dreadful. Terror is unleashed, and they must set out on a journey to find The Order of the Stone if they are to save their world from oblivion."
Minecraft: Story Mode will debut later this year.