Tails of Iron reveals "Bloody Whiskers" free update, out today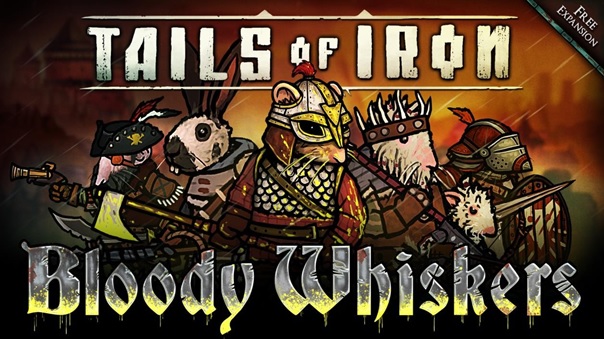 A major update has been revealed for Tails of Iron with the game getting "Bloody Whiskers" DLC today. Switch players can get their hands on the content at no extra cost.
The update features a new post-game questline, two additional difficulty modes, five new bosses, a selection of special armors and weapons, "and a secret that was perhaps better left forgotten". Here's a brief overview of the added story:
With the tyrannical Greenwart now defeated, King Redgi's vast lands chime with celebration. But the recently crowned savior isn't free to rest easy on his throne just yet. As decreed by an ancient Rat tradition, the new King must prove his worth… in a deadly trial of combat.
The new Tails of Iron update has players taking on lethal warriors from across the land to claim the key to the old King's room and discover the heinous secret that lurks within. Players will finally gain access to the 'locked door', which is something that has been discussed quite a bit among fans.
Also included in the Tails of Iron update is the Bloody Whiskers difficulty mode for an even more challenging experience. For those that prefer making things easier, a Fairy Tail mode is available as well.
Here's the full rundown as to what today's update includes:
Free to download on all platforms for players who already own Tails of Iron
Extended main story questline
Five new gruesome and dramatic boss fights
Five new outfits (includes the previously available Halloween outfit skins)
Five new weapon skins (includes the previously available Halloween weapon skins)
Two new beautiful rooms to explore, including the mysterious and previously locked King's Chambers
Two new difficulty modes:

"Bloody Whiskers" – Hard Mode (not for the faint of whisker)
"Fairy Tail" – Easy mode (for players wanting to experience the story without peril )
We have a trailer showing the Bloody Whiskers update for Tails of Iron below.
Source: United Label PR
Leave a Reply