Team Cherry unveils third free content pack for Hollow Knight, first off-screen Switch footage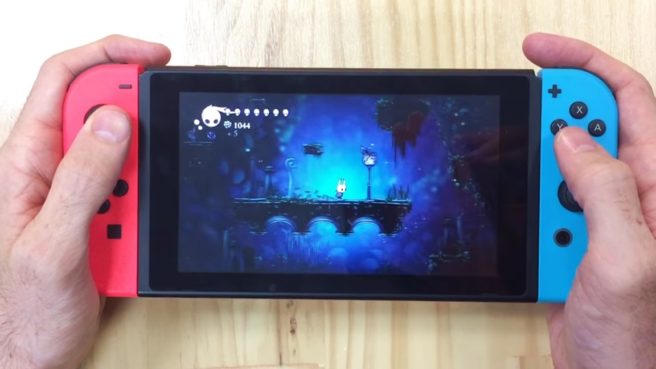 Team Cherry posted a significant blog update about Hollow Knight. Not only was the game's third free content pack unveiled, but there's also some news about Switch.
Gods & Glory is Hollow Knight's next content pack. It'll feature a new character and quests, new boss fights, a new game mode, new music, and more. This will be out on all platforms following the Switch release.
Speaking of Switch, Team Cherry posted a video showing the first off-screen video of the game running on Nintendo's system. You can find that below, along with more details about Gods & Glory.
We're gonna get right into it. It's time for the huge reveal of Hollow Knight's third free content pack – Hollow Knight: Gods & Glory.

This is the big one. Take your place amongst the Gods in an epic celebration of Hallownest's Glory and the final chapter of the Knight's journey.

Let's jump right into the details:

New Character and Quest – The Godseeker arrives (and your romance options expand). Track down this disturbing yet alluring being, break her chains and aid her in an ancient duty.

New Boss Fights – Hallownest's greatest warriors raise their blades. Prepare yourself for giant new boss fights against the ultimate foes. Each new battle intertwines with the Godseeker's quest. No specifics on how that'll happen, but it may not be as you expect!

New Game Mode – Hollow Knight receives a third game mode. This ones been long requested and is a classic for the genre. Complete the Gods & Glory story to unlock the new mode.

New Music – Christopher Larkin is going all out for Hollow Knight's final free pack, with new soaring boss tracks and giant remixes of some beloved classics.

Glorify Charms – Prove yourself and uncover a whole new depth to your charm collection.

Of course, other surprises will be hiding about the place, but we can't spoil all the fun!

Gods and Glory can be accessed at any point in your Hollow Knight journey. Prepare to ascend, Early 2018, free for all players!

Early 2018 seems a little vague, right? We'll there's an important reason for that. Content Pack 03 is coming together right now. It's shaping up great (and huge!), but we've another even more enormous release to deliver first: Hollow Knight for Nintendo Switch.

As much as we'd have loved to sneak the new content pack in, ready for Switch launch, we'd kill ourselves in the process. Expect Gods & Glory to land free for all players AFTER the initial Switch release.

Switch Update

We're not quite at that release date announce (getting there!), but we do want to share a quick something: Switch Gameplay!

We don't normally do the whole camera-over-the-shoulder style video, but HK feels designed for that handheld experience. We're now hitting our frame-rate targets (Gotta go 60!), load targets and cleaning up lots of little niggling bits alongside some serious testing.

That's a short update, for a huge release, but please expect more from us soon!
Leave a Reply