Team Sonic Racing reveals first Story Mode details, new character Dodonpa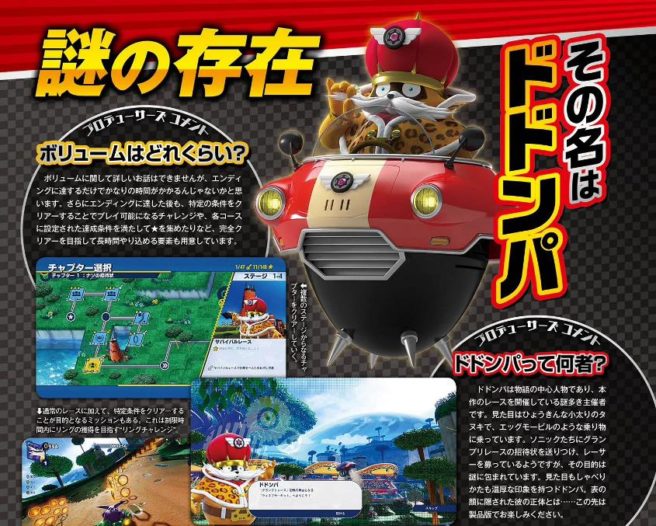 In this week's issue of Famitsu, Team Sonic Racing has a two-page article. The main highlight is the reveal of first Story Mode details, including a look at new character Dodonpa. Producer Takashi Iizuka also provides some insight.
Here's the full translation:
You've Been Invited to Race with Sonic and Friends!

Team Sonic Racing producer Takashi Iizuka introduces the game's Story Mode, in which you can enjoy Sonic & co.'s adventure!

Experience the Adventure as a Team

In "Team Adventure" Mode, you'll play through an original story centered around characters from the Sonic Universe. To progress through Team Adventure Mode, the player will have to clear various stages such as the last-man-standing "Survival Race," and the "Ring Challenge," in which players will race to collect rings. Progressing through the story will also unlock new playable characters and customizable parts for the player's vehicle!

Producer's Comment: What Kind of Mode Is It?

Team Adventure Mode is a simple story mode in which you progress the story through racing. The world map is separated into chapters, and by clearing Challenge Missions such as Survival Race, Ring Challenge, Grand Prix, and regular Team Races one by one, you can progress through the story. You can change the difficulty level, too, so it's perfectly suited for beginners to practice as well!

A New Team Reveals Itself: Team Rose!

A trio whose cuteness is only matched by their cars! Big the Cat makes a long-awaited reappearance in the Froggy-mobile! (with a fishing rod attached to the back)

Members:

Technique Type: Chao, Speed Type: Amy, Power Type: Big the Cat

Mysteries Abound!

Producer's Comment: How Much Content is There?

I can't really say exactly how much content there is, but I think it'll take a bit of time to reach the ending. Even after reaching the ending, though, there are special clear conditions for each stage's challenge. In each stage there are a set number of stars the player can collect by satisfying those conditions – I'd imagine that completely clearing every stage might take a while!

Dodonpa Appears on the Scene!

Producer's Comment: Who is this Dodonpa?

Dodonpa is a central character in the game's story; he's the mysterious sponsor behind the Grand Prix. At first glance, he appears to be a funny-looking, chubby tanuki riding around in what looks like the Egg Mobile! He sent letters inviting Sonic and the others to his Grand Prix hoping to have them on as racers, but his intentions are an absolute mystery. Dodonpa seems like nothing more than a gentle, chatty person – but could that be a façade masking his true personality… I hope you're looking forward to finding out!

A New Team Reveals Itself: Team Vector!

Drawn in by the promise of a large sum of prize money, Vector decided to participate after inviting along his two teammates. Silver's car's futuristic aesthetic is pretty awesome-looking!

Technical Type: Silver, Speed Type: Blaze, Power Type: Vector
---
Translation by provided by Nico Thaxton on behalf of Nintendo Everything
If you use any of this translation, please be sure to source Nintendo Everything. Do not copy its full contents.
Leave a Reply