Team17 outlines upcoming My Time at Portia updates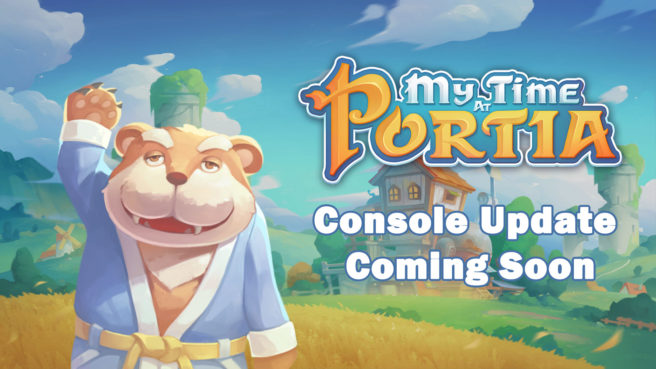 Team17 has provided new information about future updates for My Time at Portia.
The first patch, due out "in the coming weeks", will include new content and features, bug fixes, and quality of life changes. These include new main story content and an additional ending, new side quests, and more. Team17 is also looking further into loading times and input lag. Future updates will feature added voiceover, grass texture in the Switch version, and more.
Here's the full rundown on what's to come for My Time at Portia:
We're pleased to announce that we will be releasing an update for My Time At Portia on Nintendo Switch, PS4 and Xbox One in the coming weeks!

This update will include new content and features, as well as bug fixes and quality of life changes.

In this update, you can expect to see:

New main story content and additional ending
New side quests – including NPC quests and post-marriage spouse quests
New facial types as well as facial hair and decorations
Family features – having and adopting babies
Birthday selection for players
Party system – celebrate birthdays with a birthday party at your workshop!
New clothing and furniture
Game speed adjustment option – adjust how quickly time passes in game
Quality of life changes including; information filter on the map, UI changes (such as time display during fishing), adjustments to drop rates of items and adjustments to mission times.
Rumble/vibration features for controllers
Multiple crash fixes

Our team are currently looking into incrementally improving console loading times further, as well as addressing the input lag which affects in-game menus and actions and the stuttering which occurs when carrying out certain activities in game (cutting trees, for example). We'll have more information on this soon.

We'll also be adding more background music, ambient sounds and various sound effects during cutscenes and in-game, including footstep audio and sound effects when fighting monsters. We'll be posting a full list of changes when this update is released.

Future updates:

We've been collecting player feedback since My Time At Portia launched on consoles earlier this month and are currently investigating the below areas for implementation where possible:

Adding voiceover
Improvements to text size for better UI visibility
Adding grass texture into the Switch version
Creating an option to adjust the display area of the game
Leave a Reply