Tears of the Kingdom is amazing (plus giveaway results, news and more) | Nintendo Everything Refresh Ep. 054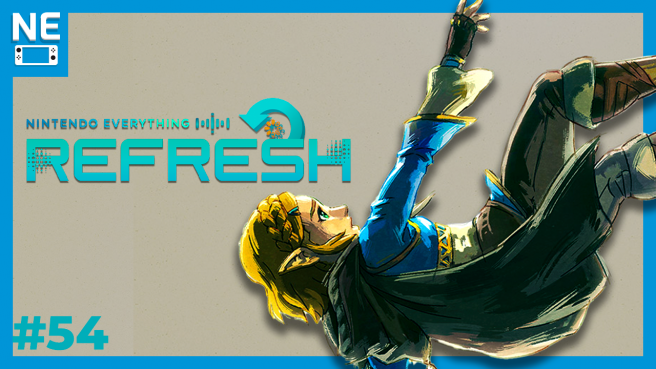 After years of anticipation, The Legend of Zelda Tears of the Kingdom is finally here, and you can bet your rupees that we've been playing it! In this special episode of Nintendo Everything refresh, join your hosts Nicolas, Tom and Sam (joining us from our YouTube channel for the first time) as we dive deep into Link's new adventure, all the new gameplay systems, the world, the story and more! We'll also discuss the latest news from Nintendo on the future of the Switch, the delay of Hogwarts Legacy's Switch version, and much more!
Our podcast is ⁠⁠available⁠⁠ on most major streaming platforms, including ⁠⁠Spotify⁠⁠, ⁠⁠Apple Podcasts⁠⁠, ⁠⁠Google Podcasts⁠⁠, ⁠⁠Amazon Music⁠⁠ and ⁠⁠Audible⁠⁠, or you can check out the video version on ⁠⁠YouTube⁠⁠. Direct downloads are also available for free through our friends at ⁠⁠⁠ListenNotes⁠⁠⁠.
Thanks to everyone who entered our giveaway last week for Forever Entertainment's Magical Drop VI! Selected at random, the YouTube usernames of the winners are: Cesar Tribst, BlueEyes, Jay88Fitness, 47drift and Denny South.
If you were selected, we'll be responding to your YouTube comment on last week's episode with instructions as to how to receive your code, so keep an eye out for more info!
Have ideas or suggestions for the show, or want to submit a fan question or topic for a future episode? Let us know what you think – and thanks for listening!
➡ Inquiries/Fan Mail: [email protected]➡ Visit the site: ⁠⁠https://nintendoeverything.com⁠⁠
Episode Segments:
⁠⁠00:00⁠⁠ Intro
⁠⁠01:21⁠⁠ Winners for the Magical Drop VI Giveaway
⁠⁠02:36⁠⁠ Zelda (no spoilers) ⁠
53:53⁠⁠ Recent releases
⁠⁠57:18⁠⁠ Refresh Rate (Our experience with Zelda so far – spoilers!)
Hosts:
Nick Serpa: @ndserpa
Nicolas Shadday: @Dayshade1999
Tom Chaplin @Thomchaplin
Dennis Gagliardotto: @LyonHart_
Luiz Estrella: @Luizestrella_
Leave a Reply